Digital Vision GiGo DV-DTR1 USB PVR
Heir apparent: granny's new VHS?
The GiGo includes an eight-day electronic programme guide, although the large text – useful for the senior citizen – only shows two or three programmes at a time across the screen for each channel. Selecting a programme in the EPG and pressing the record button on the chunky, comfortable remote control adds that programme to the recording schedule.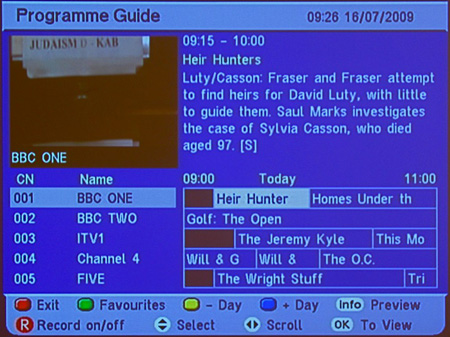 Large-text EPG to suit old-style CRT TVs, but with limited programmes per screen
You'll need to allocate the recording to one of the three USB devices, and you'll get clearly displayed info on the total and remaining capacity of the chosen device, with a warning if there's insufficient room. Unfortunately, the current firmware doesn't allow you to bridge a recording across two or more USB devices.
Recordings can be renamed or erased through the menu system, which also has provisions to completely reformat USB flash drives. A clear, easy to read tabbed menu system provides full information about the status of each of the three USB ports, and retains EPG information about the recorded programmes. The GiGo can also copy recorded programmes across from one USB device to another.
As well as pen drives, the USB sockets are designed to support USB hard drives, as long as they can provide their own power without drawing on the GiGo. Outside this specification, our tests with a portable 500 GB Seagate FreeAgent Go drive, which is powered from the USB socket, were encouraging but not conclusively convincing.
It was possible to record to the drive successfully, the resulting files playing back perfectly on a PC, but the GiGo struggled to play back or wind through these same files itself, occasionally dropping out and reverting to on-air mode. So, USB-powered hard drives appear to be fine for making recordings for playback or processing on a PC, but won't turn the GiGo into the equivalent of a hard-drive PVR.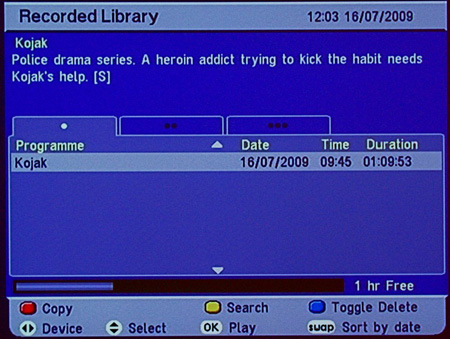 Three tab display for each of the three USB flash drive sockets
The device under review was a preproduction model so this may change with subsequent firmware updates. Users will be able to do these upgrades over the air, or from Internet downloads delivered through one of the USB connections. Storage aside, the picture was perfectly acceptable even with the composite output and the device runs cool, so it can be placed just about anywhere.
Sponsored: Minds Mastering Machines - Call for papers now open