If you're a projector aficionado you'll already have divided the world of remote controls into those that are strong enough to bounce their signals off a wall, and those that aren't. LCD/Plasma watchers tend to keep their set top boxes and other feed equipment in the same line of sight as their screen, so IR devices only need to be able to work directly.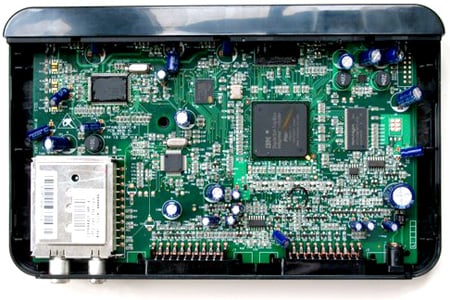 Internal affairs: the CPU is an IBM PowerPC variant
We projector buffs typically have all our kit behind us, but still expect to be able to control it by pointing remote controls in the direction of the screen. The bad news for us is that the GiGo remote IR signal doesn't bounce, so we'll need to brush up on our over-the-shoulder action.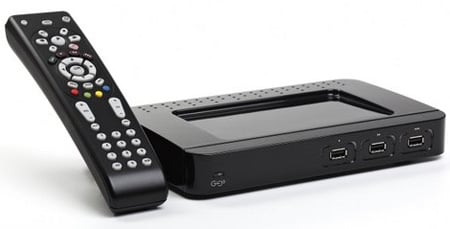 Solid-feeling remote control, but it won't 'bounce'
Digital Vision has done a good job providing a basic Freeview box that makes recording and playback simple. Granny should find USB flash drives a lot easier to juggle than either VHS tapes or DVDs. A hard drive would be even easier, of course, and we understand that future devices from Digital Vision will include this option.
Verdict
The GiGo, despite its unfortunate name – as there's nothing "garbage in, garbage out" about it – is certainly a good bet for the more computer-savvy user who wants a Freeview set top box that allows transfer to a PC. And for everyone else, as an easily maintained, no-moving-parts VCR replacement, the GiGo seems hard to beat. ®
More TV Recorder Reviews...

Humax Foxsat-HDR

SiliconDust
HDHomeRun

Elgato EyeTV 310

Emtec
Movie Cube S800

Digital Vision GiGo DV-DTR1 USB PVR
Easy to operate, with plenty of potential for both domestic and techie use.
COMMENTS
MPEG Streamclip
If it's just dumping the transport stream to the drives, which is the most likely, then you'll almost certainly be able to open the files using MPEG StreamClip (www.squared5.com) which is one of the tools of choice for the owners of Topfields and other PVRs that let you offload the files.
Of course, they may have weird headers stuck on them, but that's not insurmountable - StreamClip handles some formats, and VLC skips over some too, allowing you too use it to create a plain TS.
VideoRedo can also handle some TS files.
Excellent!
This would make a nice back-up pvr for my in-car dogcam setup!
http://www.dogcamsport.co.uk/mtb-bmx-bullet-cameras.htm
FAT32 workaround: >4Gb recordings split into several files, linked via playlist file?
If the PVR does use FAT32 then the 4gb limit could be overcome by the device creating a new file once the earlier had reached 4gb. A playlist file would also be created to link them together. We all know that playlist files are used to sequence audio and video on our favourite Windows/Mac/Linux players, so this technique also ought to be applicable in this dedicated set top box.
Humax Foxsat thingy
Might be £300 Quid but it is HD afterall!
You might struggle to get that on a 4gb stick!
FAT32
FAT32 on a DVR? What a brilliant idea, especially given that the maxium file size 4 GB - so if you're recording a longer movie, forget about actually watching it! If you're any serious about getting a DVR, a MythTV box with a reasonably sized HD (formatted in XFS/JFS) with a couple of DVB tuners will yield much better results, and actually won't cost that much - my >5 years old Athlon XP 2600+ with 1 GB of RAM happily records four DVB streams while watching one (it could do eight from two multiplexes, but there's never that much to watch at any given time), and with proper deinterlacing it looks great even on a 1080p display.