Hybrid warship in development
'Oh, I'm the greenest captain of the US Navy...'
Leccy Tech The US Navy has awarded a multi-million dollar contract to a high-tech research firm, in an effort to turn its DDG-51 Arleigh Burke Class destroyers into floating Prius warships.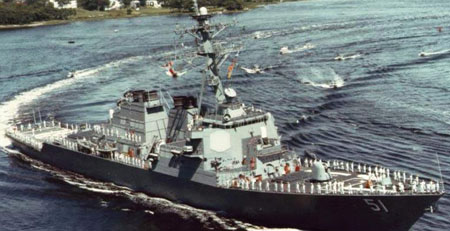 Hybrid drive will let the DDG-51 warship perform slow-speed moves
Under the terms of the contract, US-based firm General Atomics will develop a prototype Hybrid Electric Drive (HED) system for integration with the ship's existing General Electric-manufactured gas turbines.
The DDG-51's turbines are capable of propelling the ship forwards at a rate of 30 knots or more. But, with a HED system onboard, the US Navy hopes that its DDG-51 destroyers will be able to perform graceful slow-speed manoeuvres.
But the US Navy's also calculated that HED technology could reduce the fuel consumption of each DDG-51 by roughly 16 per cent, and the annual operating cost by around $2m to $13.2m (£7.9m/€9.2m).
The first HED-equipped DDG-51 destroyers are expected to dock in 2014. ®
Sponsored: Minds Mastering Machines - Call for papers now open