Sony NAS-SC500PK Gigajuke
Walkman-friendly HDD-based Wi-Fi Hi-Fi
If all your music is still on good old-fashioned CD, then loading will still be a reasonably rapid affair. The default import format is 256kbps MP3 though you can change to Linear PCM if you so desire. Once imported the Gigajuke uses Gracenote to snag the relevant file information either from a 350,000 strong built-in album database or if that comes up empty handed from the Internet.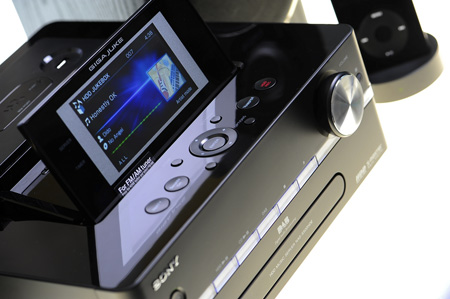 No AAC import option, these files are converted to MP3
A third option for loading content onto the GigaJuke is to dump it onto a USB memory stick and plug it into the USB port. As a fourth option, you can record AM/FM/DAB broadcasts off-air, a feature enhanced by the track mark function that distinguishes between music and speech and places a cue point between the two.
Like the latest generation of Walkman devices, the Gigajuke comes loaded with Sony's 12-tone analysis SenseMe application which sorts your music into a dozen 'mood' based themes. Unlike Sony's Walkman players, SenseMe on the Gigajuke analyses content while the device is in standby, so you never actually notice it updating itself.
Though a bit of a gimmick – we can think of lots of words to describe music styles but 'Slow Life' and 'Good Morning' aren't amongst them – it's not without its uses, if you fancy an impromptu playlist to suit your humour. In over 100 tracks, the only bizarre moment occurred when the system stuck Richard Thompson's I Misunderstood in 'Lounge' and, frankly, we can't think of worse musical sins.
Another trick up the Gigajuke's sleeve is Party Mode. Hit this switch and all the wireless receivers connected are automatically slaved to the server allowing you to control music playback throughout the house. A slaved receiver will even come off stand-by when commanded to by the server. It's a great idea and works perfectly unless you try to play files that are stored on a PC hard drive. Try it and the server and receiver end up about 5 seconds out of sync.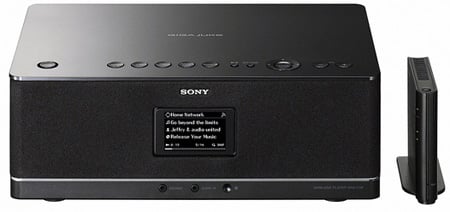 The NAS-C5E wireless music player has built-in speakers
An unexpected surprise was the Gigajuke's ability to work out which of the albums we copied across were gapless – the recording of Turandot we imported played back without a moments silence between the cue points. Since the NAS-C5E wireless receiver is UPnP compliant in its own right, you can use it to play different HDD stored audio content to that coming out of the server's speakers or even stream content directly from another hard drive. Although it lacks the main unit's AM/FM/DAB capability, you can stream Internet radio from SHOUTcast and Live365 feeds or pipe a signal into it using the 3.5mm audio input.
Sponsored: Minds Mastering Machines - Call for papers now open