Sony NAS-SC500PK Gigajuke
Walkman-friendly HDD-based Wi-Fi Hi-Fi
The wireless receiver is no looker either, being little more than a rather featureless black box. And at 341 x 123 x 213mm it's not that small either, being substantially deeper than the Logitech Squeezebox Boom and the Philips NP2900. Alas, both the supplied remote control units show every sign of being built down to a price and, while they work, they also feel cheap. The layout of the server remote, in particular, leaves a lot to be desired. The buttons seem to have been fired at it with a shotgun, with little, if any, regard for the most important or most commonly used functions.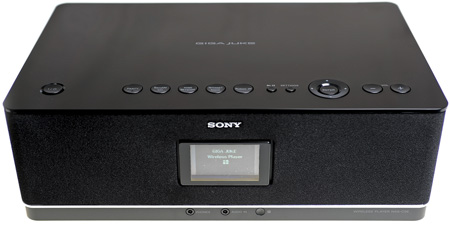 The screen on the wireless receiver is only good at certain angles
Certainly, Sony would have been much better served by mounting the screen in a big old remote a la Sonos. Apart from letting you control the system from another room this would also have the added benefit of allowing users to control both devices from one remote. The buttons on the two main units also feel just a little on the cheap side having a crude and un-damped action.
Sony's inclusion of a monitor out jack seems to us tacit admission that the screen set up is less than perfect. The idea is that you plug in a monitor and use that in place of the built-in screen – that just seems rather peculiar. The GigaJuke system communicates over an 802.11b/g wireless network and while it would have been nice to see that upped to draft-n for the sake of extra range we never had any reception issues during our test.
Sadly, Sony has not seen fit to expand on the codecs that the Gigajuke can handle, so you are limited to MP3, PCM, ATRAC and WMA. We really would have liked to see AAC and Flac added to the list. While you can import AAC files they will be converted to MP3 for storage. As you would probably expect there is no support for DRM in any size, shape or form.
To transfer music from your computer to the Gigajuke you need to use Sony's bundled MusicTransfer application. It's a pretty simple programme – it scans the host machine for playable music files, greys out any that are DRM protected and then lets you sync eligible files either across a wireless network or via an Ethernet cable.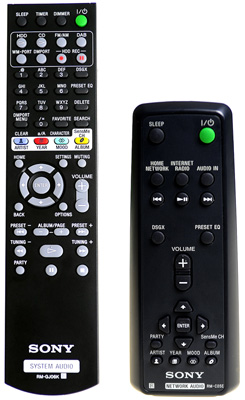 The remote control functions are rather randomly distributed
While the sync system proved generally reliable, it wasn't perfect. A recording of Puccini's Turandot appeared in the correct running order when imported into MusicTransfer, but several tracks were out of position when it showed up on the Gigajuke's HDD. Another slight snag with the MusicTransfer application is that it is Windows-only, which rather leaves Mac and Linux users up the creek without a paddle.
Sponsored: Minds Mastering Machines - Call for papers now open