Sony NAS-SC500PK Gigajuke
Walkman-friendly HDD-based Wi-Fi Hi-Fi
The most obvious improvement over the old system is the addition of a dedicated Walkman dock on the top of the main unit and the installation of a new 160GB hard drive, double the size of that in the previous model. Of course 160GB is its nominal size. After the system software has taken a bite you have a shade over 142GB for file storage.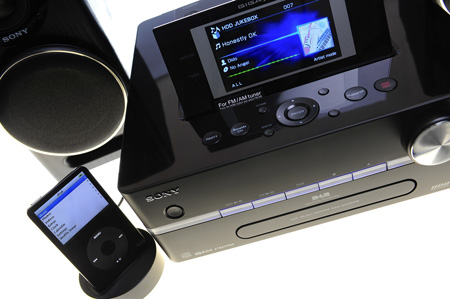 Includes both an iPod and a dedicated Walkman Dock
The NAS-S500HDE is quite the jack of all trades. As well functioning as a DAB/AM/RDS-FM radio, playing and importing CDs and acting as a UPnP music server, it can also function as a streamer for music stored on a computer drive or NAS. Strangely though, one thing the Gigajuke server won't do is play Internet radio feeds – odd because that's something the wireless receiver will do.
When it comes to connecting portable media players Sony has covered all the bases. The bundled iPod digital media port – which lives at the end of a one metre cable – will keep your iPod charged and allows content playback via the server and its speakers. Forget moving your tunes to or from your iPod though, the Gigajuke isn't that clever. Nor can you use Party Mode when playing back from the Apple dock. More on this shortly.
Atop the server is a second dock, this time for a Sony Walkman. Plug a recent model Walkman into the dock and not only can you play music from it but you can also manage its content directly via the server. If you have an MP3 player other than an iPod or Walkman then, as long as it can be set to behave as a mass storage device, you can transfer music onto it directly from the Gigajuke simply by hooking it up to one of the USB ports.
To help keep an eye on what the Gigajuke is doing, the main unit has a clear, bright 4.3in colour screen that can be angled up out of the unit to ninety degrees. The Home screen consists of nine icons that allow direct access to its DAB radio, DMPort, CD, built-in HDD, FM/AM radio, 3.5mm audio input, SenseMe channels, Walkman Port and the home network the Gigajuke is connected to. All told, it's a fairly straightforward and well thought out system, enabling you to navigate your music library with the minimum of fuss and confusion.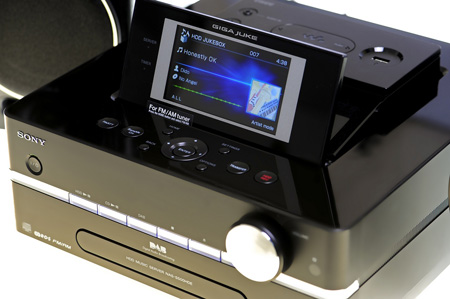 The NAS-S500HDE server unit is intuitive to operate
The server's operating system is not exactly fleet of foot though, and you do spend a fair amount of time waiting for the system to switch from one source to another. By contrast to the main server's screen, the wireless receiver's is pretty bad, being a tiny 2.5in monochrome affair that is very hard to read unless you are looking at it head on. Place it at waist height and you will be bending down a lot in order to see what its up to.
Sponsored: Minds Mastering Machines - Call for papers now open