Sony NAS-SC500PK Gigajuke
Walkman-friendly HDD-based Wi-Fi Hi-Fi
Review After a little less than a year on the market Sony has decided to give its Gigajuke wireless music system a bit of a facelift and make a few modifications. Evidently, the company intends to capitalise on the fact that, within the same twelve months, its Walkman range has gone from being a bunch of also-rans to a collection of some of the best personal music players on the market.

Sony's NAS-SC500PK Gigajuke HDD
Open the Gigajuke box and you will find a plethora of kit with Sony bundling a NAS-S500HDE hard-drive based server unit complete with built-in CD player and a pair of rather fine bookshelf speakers. There's also the NAS-C5E wireless music player with built-in speakers – think Logitech Squeezebox Boom – a small wireless router, a dock for your iPod, two remote controls and enough cables to re-wire a three bedroom semi.
At 285 x 143 x 310 the main Gigajuke server unit is small enough to find a home in any room in the house but, despite its size, it still has more ports and sockets than you can shake even a large stick at. Starting at the top of the device you will find a Walkman dock, a USB port and 3.5mm audio-in and out jacks. Scoot around to the rear and you'll find another USB port, an Ethernet network port, monitor out jack, stereo RCA audio inputs, speaker sockets and AM/FM and DAB radio antenna sockets.
To hook the server and wireless receiver up you can either use the bundled wireless mini-router or simply connect the units up to an existing wireless network. We tried both and experienced no problems before putting the Sony router back in the box and using our existing network in order to save on a power socket.
Connecting everything up can take a little time - and with all the antennas attached you will have quite a mess of cabling to contend with. Still, the 205 page manual – and that's just the English version – is very clear and comprehensive, so we very much doubt that even a network virgin will experience any insurmountable problems.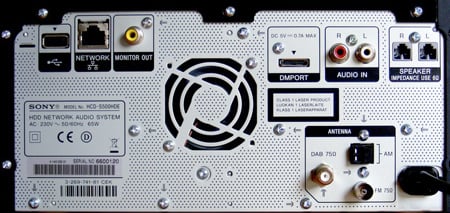 The back panel just about has it all
Sony supply all, and we mean all, the cables you could wish for including AM, FM and DAB antennas, speaker cables, a USB extension cable and a network LAN cable to physically connect your computer to the server, should you wish to. Incidentally, the server doesn't have a wireless receiver built in, but is supplied with a USB wireless adaptor.
Sponsored: Minds Mastering Machines - Call for papers now open