iRex Digital Reader DR1000S
Paper tiger?
Battery life is also disappointing – the capacitive screen draws power even if the display doesn't, and we found a fully charged battery would rarely allow 10 hours of reading. We were using complex PDF files, and taking lots of notes, but we would still have hoped for longer. Luckily, the DR1000S will turn itself off after being ignored for half an hour, unlike its predecessor, the iLiad.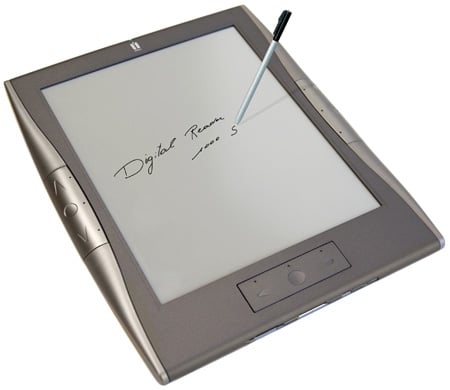 Digital doodles come at a price
On the desktop side, things are much improved. The Companion Application software is pre-installed on the device – which appears as a USB drive when connected to a computer – and will automatically execute if you happen to be running Windows. For electronic books, the Reader will support Mobipocket, at a push: but the DR1000S is not intended for reading books. The Companion Application software has a slick interface and appears to offer better functionality, but initially didn't work as it couldn't recognise PDF files until 'show known file extensions' was enabled on the PC.
The value of this class of device is in the ability to make a load of scribbled notes onto a PDF file and then merge those notes into the PDF file for viewing elsewhere. The open nature of the iRex Iliad encouraged hackers to create applications that stripped out pages on which notes had not been made, and changed all the notes made into red marker – functionality that has proved invaluable to anyone forced to read, for example, long regulatory documents from Ofcom.
Unfortunately the DR1000S won't do that, as yet. The Companion software is limited to merging scribbles with PDF documents. There is a third-party application that provides additional functionality, but it's Linux-only for the moment and we didn't get a chance to try it.
Verdict
Despite the disappointing software and outrageous price this is, quite simply, the most effective way to read and make notes on long documents. If you have to do that regularly, then the RD1000S is the best tool for the job, but try to get the company to pay for it. ®
More Tablet Reviews...

Group Test
Electronic book readers

Toshiba
Portégé M750

HP Compaq
2710p tablet PC

Nokia N810
Internet tablet
Sponsored: Minds Mastering Machines - Call for papers now open

iRex Digital Reader DR1000S
Ideal to read and make notes on PDF documents, but you'll have to do it an awful lot of it to justify the price.