EMC could be seeing bottom of the recession
Quarterly results show sequential rise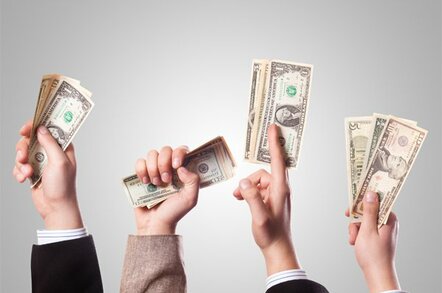 EMC has just announced second quarter results for this year which show a rise over the first quarter, but a drop on last year's numbers.
Beating Wall St estimates, second quarter revenues were $3.26bn, down 11 per cent year-on-year but up 3 per cent compared to the January-March quarter. Net income of $205.2m showed the same pattern, down 43 per cent on last year's equivalent figures, but a rise of 6 per cent sequentially.
Chief financial officer David Goulden said: "EMC's Information Infrastructure business achieved balanced sequential revenue growth across all major geographies and in every business unit."
EMC's Information Infrastructure business (Information Storage, RSA Security, and Content Management & Archiving) revenue for the second quarter was $2.80bn, up 5 per cent sequentially, driven by strong sequential growth of CLARiiON and Celerra storage, plus EMC's backup and recovery software, RSA security products, and EMC Global Services.
EMC announced today the successful completion of its tender offer for Data Domain stock, and now controls approximately 94.2 per cent of Data Domain shares outstanding. It expects to close the acquisition today.
For its quarter ending June 30, 2009, Data Domain achieved consolidated revenues of nearly $86m, an increase of 40 per cent compared with the year-ago period.
VMware, majority-owned by EMC, contributed second-quarter revenue of $455m - see our report here.
EMC CEO, president and chairman Joe Tucci didn't say much about basic storage hardware in his statement: "This marks another quarter of solid execution... We are focused on four of the hottest and fastest-growing areas of IT spending — next-generation fully virtualized data centers; cloud computing; virtualized desktops and clients; and next-generation backup, recovery and archive solutions."
It's quite a while since EMC was a pure-play storage vendor.
The outlook is for consolidated EMC revenues of $13.8bn in the full 2009 year. This includes $200m of revenues from Data Domain. Consolidated third-quarter revenues are expected to increase 2 to 3 per cent from the second quarter, excluding revenues from the acquisition of Data Domain, but increase 4 to 5 per cent including them.
If we assume the difference is 2 per cent, then that implies Data Domain revenues of $65.2m in the third quarter, almost $21m down on the just-completed quarter and comparing poorly with its third quarter 2008 revenues of $74.7m. But if we assume a 3 per cent Data Domain contribution to EMC in the third quarter, the result is $97.8m which is much healthier. There's not a lot of clarity here.
The expected full year 2009 EMC figure is down from 2008's revenues of $14.88bn. What we could be seeing here is a slight rise from the bottom of the recession for EMC, an interpretation borne out by results from Seagate, but not 3PAR. ONStor's failure to survive and subsequent collapse into LSI's hands also says it saw no rise in revenues in sight. Overall it's still not clear enough to decide if we are rising from the bottom or sitting on it. ®
Sponsored: Minds Mastering Machines - Call for papers now open