Brother P-Touch 2100 label printer
Sign of the times
On the left-hand side is the slot where the labels come out. They can be 3.5, 6, 9, 12 or 18mm wide and come in 8m lengths, in drop-in cartridges. There's a good range of coloured backgrounds, including red, orange, green and blue, as well as clear and white.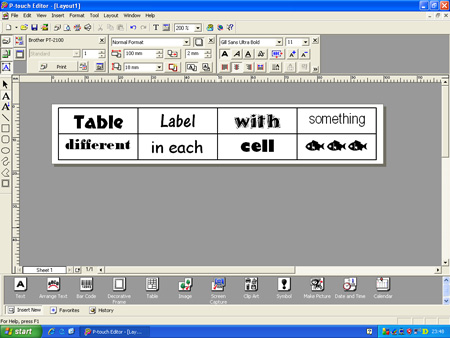 P-Touch Editor: complex labels from a PC with a bit of fuss
Brother's TZ tapes are activated by a thermal head in the printer, although the ink which changes from clear to black, or a limited range of other colours, is not on the surface layer. Using a transparent layer of PET over the ink substrate, the ink is activated through the top layer, so the finished label is much less susceptible to abrasion. Much like modern photo papers, the label tape is a laminate of, in this case, six different layers, including the adhesive and a backing paper, which has to be peeled off.
When printing labels, you either have to specify to chop off 23mm of blank tape before printing each label, or to create labels with 24mm of blank tape at each end of the printed text. Either method is wasteful, particularly if you're printing short labels; in an 8m tape, chop-offs will account for over a metre, if your average label length is 100mm.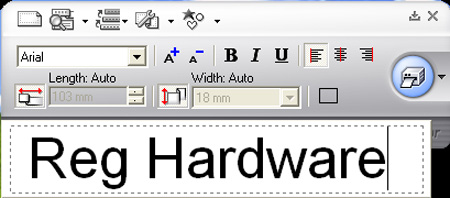 Quick Editor: simple labels from a PC without fuss
One of the highlights of the P-Touch 2100 package is the P-Touch Editor, but this is only available for versions of Windows from 2000 onwards. There's no specific support for OSX or Linux. The editor screen looks a bit like a desktop publishing editor, only for long, thin documents. Labels can be set to have a fixed length or the length can be left open and the label expands as text or other graphics are added.
As well as standard functions, such as justification of text, selecting font and size – any font available on your system can be used in a label – you can add geometric objects, such as polygons, ellipses and freehand lines and run text horizontally or vertically.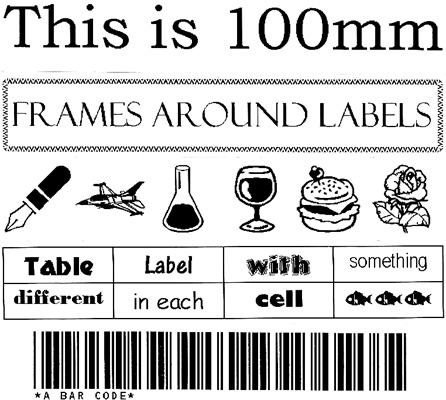 From serious to fun labels
That's really just the beginning, though, as you can also add from a wide range of clipart and symbols, provided in the program, add decorative frames, include date and time and calendar information and even subdivide a label by building in a table. Table cells can each contain different kinds of objects, providing a wide range of design possibilities.
Sponsored: Minds Mastering Machines - Call for papers now open