Astroplumbers fix US space superloo
ISS deluxe dunny reopens for business
The US's $19m space superloo is once again accepting customer input following a successful repair yesterday by the International Space Station's Expedition 20 commander Gennady Padalka and flight engineer Frank De Winne.
The Destiny laboratory dunny, aka the "Waste and Hygiene Compartment", clapped out on Sunday, obliging the 13 current residents of the ISS to use either the Russian facilities or those aboard space Shuttle Endeavour.
NASA explains: "The system's dose pump failed Sunday. After Padalka and De Winne replaced the separator pump, control panel and the COT, a container that holds liquid, the system was activated and performed normally."
Mission specialists Tom Marshburn and Dave Wolf (pictured below), meanwhile, conducted STS-127 mission's second spacewalk - a six hour, 53 minute stint during which they shifted some hardware spares.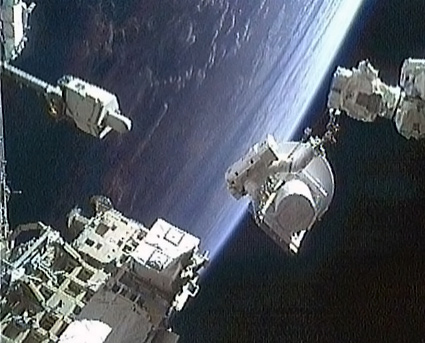 NASA elaborates: "Wolf removed three hardware spares – a Ku-Band Space-to-Ground Antenna, a Pump Module and a Linear Drive Unit, from an Integrated Cargo Carrier. With each spare in hand, Wolf rode the space station robotic arm to the P3 Truss where a stowage platform awaited. There he and Marshburn attached them for long-term storage. "
The agency adds: "It was the 215th American spacewalk in history. It was Wolf's sixth spacewalk, totaling 38 hours, 44 minutes and placing him 19th on the all-time list. It was Marshburn's first excursion."
The next spacewalk is scheduled for tomorrow. Wolf and Christopher Cassidy will "prepare the [Japanese Kibo lab] exposed facility for experiment transfers and replace four out of the six batteries on the port side truss".
There are more details in NASA's STS-127 mission summary (pdf) and press pack (pdf). ®
Sponsored: Minds Mastering Machines - Call for papers now open