BenQ Joybee GP1 mini projector
Palm-sized portable projector with a lifetime lamp
When driven from a PC we found the default settings produced a rather dull image, but switching to movie mode delivered an impressive range of bright, saturated colours. Still, the lack of a digital connector meant that output from a PC looked noticeably worse than that from the built-in USB reader. In PC mode you also lose a few pixels, stepping down from 858 x 600 pixels to the standard 800 x 600 pixel resolution.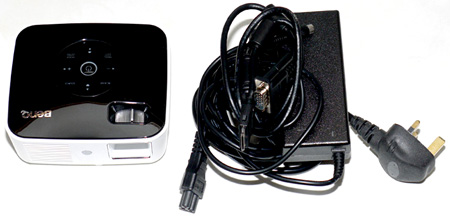 Excess baggage: there's no carry case provided for the bulky, but essential PSU
The GP1 is undeniably fun and certainly portable, but what the official product shots don't show you are that the external power adapter is about a quarter the size of the projector itself. While the GP1 comes with a rather nice carrying pouch, there's no room in there for the adapter or the cables, so you'll need to put everything into another bag if you want to take it away with you.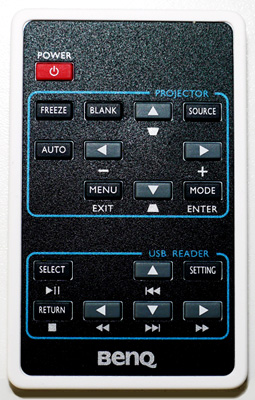 The remote's dual controls add to the fiddle factor
As for the supplied credit-card sized remote control, this does take some getting used to. First of all, it's not illuminated, so if you've darkened the room you may have difficult seeing it. Secondly, it's divided bizarrely into two sections, one for the USB reader and the other for general projector settings. This means you get two sets of cursor keys. You also end up with buttons labelled Enter, Select and Return and have to learn which is which.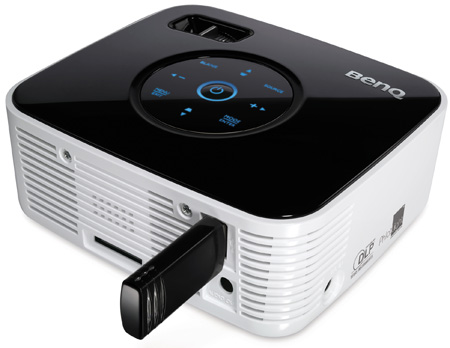 USB interfacing allows media playback, but in unfriendly formats
The ability to play picture slideshows and videos directly from an iPod or USB storage is great, but don't expect it to be a matter of simply copying your favourite videos onto a flash drive and plugging it in. Unfortunately, the GP1's media playback capabilities are severely limited by BenQ's choice to support only MPEG1 or MJPEG formats – which nobody uses, ever.
Sponsored: Minds Mastering Machines - Call for papers now open