BenQ Joybee GP1 mini projector
Palm-sized portable projector with a lifetime lamp
The key to the GP1's small size is it use of LED technology instead of a traditional mercury arc lamp. It utilises technology from Luminus, named 'PhlatLight', that enables the construction of much smaller, lighter projectors, with no lamp replacements required. Projector lamps are often scarily expensive and must be replaced after two to six thousand hours of use. It's not uncommon to find you need a new lamp, only to discover that it would cost more than a new projector.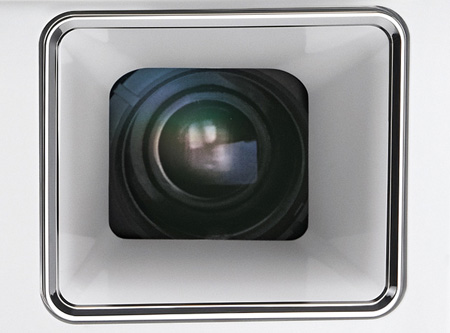 Early adopter of the PhlatLight LED lamp technology
Considering the PhlatLight is good for up to 100,000 hours, it's intended to last the lifetime of the projector and is not designed to be replaced. It also retains its brightness, unlike traditional lamps, which dim over time. Furthermore, not having a conventional lamp means there's no need to wait for the projector too cool down before turning it off.
The DMD chips found in DLP projectors cannot display in colour. Traditional DLP systems create a colour image by shining white light through a rapidly-rotating segmented colour wheel which allows light the colour of each segment to be projected sequentially, thereby building up the full colour image. Due to the short time lag between each of the colours hitting the screen, many viewers are able to perceive an irritating 'rainbow effect', especially in high-contrast moving images.
The GP1 doesn't use a colour-wheel. Instead, the three banks of coloured LEDs pulse rapidly in step with the DMD chip, many times faster than can be achieved with a standard colour wheel and greatly reducing rainbow effect.
Although clearly designed for fun, the GP1 comes with a full menu system containing many features found in BenQ's more expensive projectors. Particularly useful to a highly portable device like this are the auto keystone image alignment and wall colour correction functions that tint the projected picture to compensate.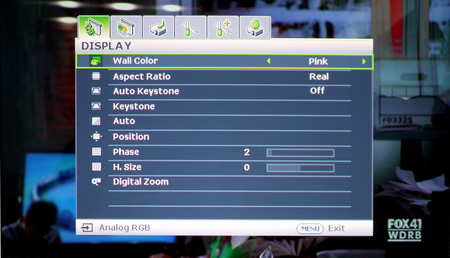 Configuration options include wall colour compensation
Despite its rather low rated brightness and contrast ratio of only 2,000:1. The GP1 performed rather better than expected, producing a clearly visible image even with the room lights turned on. Obviously this improves greatly in a darkened setting and it's best to avoid the maximum 80in screen size unless you really can dim the lights.
Sponsored: Minds Mastering Machines - Call for papers now open