LG's File Manager syncing software worked efficiently and intuitively enough, but it doesn't allow you to create new files from within the software, and transfer speeds left something to be desired – a 20MB video file took a full two and half minutes to load. Incidentally, there's a reasonable 1.5GB of onboard memory, but you can add up to 32GB more via microSD card, although there's no card supplied.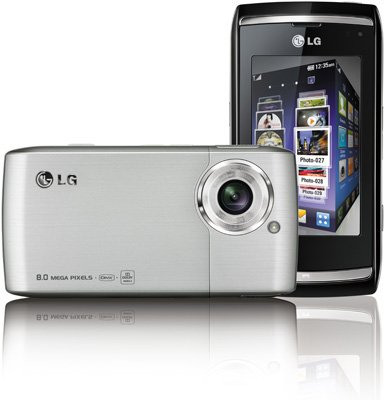 Media transfer times leave room for improvement
POP3 email accounts were easy to set up and while you can key in messages using the numeric keypad and T9 predictive text, by spinning it on its side, it automatically brings up a Qwerty keyboard. When you press the keys the number is highlighted with a tab, very like the iPhone. There's also the option of a little buzz of haptic feedback and audible clicks to help with typing.
The Viewty Smart claims up to 300hrs standby and 5.5hrs of talktime and in practise we got a little over two days of moderate use, with some web browsing over Wi-Fi, some music playing and a bit of video watching.
Verdict
The 8Mp camera has tended to be reserved for high-end phones, but with LG already promising a 12Mp camphone, this image resolution now appears on what is supposed to be a mid-price handset. There's no obvious skimping on ability – the camera is very impressive, viewing video and listening to music were both great when using decent headphones, and the browser too is a sound one. Overall, this is an impressively stylish and capable phone with an exceptional camera for a very reasonable price. ®
More Phone Reviews...

Sony Ericsson
C903

Samsung
i8910 Omnia HD

Nokia N97

LG Arena

LG GC900 Viewty Smart
It looks great and takes pics like a proper grown-up digital camera.
COMMENTS
@Richard Harris
Had the phone suffered from poor reception, a tinny speaker and the microphone might only be in the right place if you have a head the size of a walnut we'd have mentioned it. It didn't, so we didn't.
@handle
So where is this mythical camera with the massive sensor and only 3 mega pixels ? Should have zero noise at any ISO setting cos the pixel density would be so low...... but it don't exist, cos density was never the prob. Remember the Fugi F30 ? it used Super CCD sensor with octagonal pixels. This INCREASED pixel density and also LOWERED noise.
Get your facts stright.
@Brian 6
I had the old Viewty with a 5MP camera and a SE K800 with a 3.2MP camera.
The pictures taken with the Viewty were always absolute crap compared to the supposedly inferior SE camera.
Why read the review?
@Rosco
Why read the review?
I am currently looking for a new handset, call quality & reception are of more importance than other features. So I read all the reviews to find a phone that has the call quality I want, I am using a Nokia N80 and it is above average in this area but I am looking for something better.
So if you know a better way to find this info other than reading reviews please share it.
@Brian 6
1) Phil Arundell never compared a phone camera to an SLR. Just a bog-standard compact digital camera would be ashamed to take pictures like the ones in the sample shots.
2) Noise IS caused by pixel density: the smaller the pixels, the less light-collecting area you have per unit area of sensor surface, which is equivalent to less light falling on the sensor.
Be careful when you accuse others of looking "silly" - it might come back to slap you in the face.