Once you've taken your pics you can adjust them for colour and brightness, as well as blur or sharpen them, and add some fun effects, such as oil painting and cartoon filters, as well as a raindrop effect and the frankly bizarre Fog Drawing, which allows you to 'breathe' on your pics and then write in the 'condensation' on the screen.

Fog drawing, for the dewy eyed
Playing back video on the 480x800-pixel screen looked great, and there are options to expand even widescreen movie trailers to full screen viewing. it supports a very broad range of video formats (H.263, H.264, MP4, WMV, ASF, DivX and Xvid), as well as audio codecs (MP3, AC3, AAC/AAC+/E-AAC+/AMR-NB/WB/WB+, WMA/WMA Pro, Ogg Vorbis and MIDI).
The music player features an equaliser with 22 presets including a bass boost. There's also Dolby Mobile noise reduction, but this had the effect of making the music sound so compressed, that we gave up on it.
In contrast to the rest of the phone, but no real surprise from LG, the supplied headphones are cheap and nasty, with an unacceptable degree of hiss and too-narrow dynamic range, very little bass and distortion creeping in all too easily at the high end.
Fortunately, there's a 3.5mm adaptor with a long 80cm lead for connecting a better set of headphones to LG's power port. Or you can use a wireless Bluetooth headset. We liked the FM radio though, which comes with 30 presets and a funky little virtual dial interface.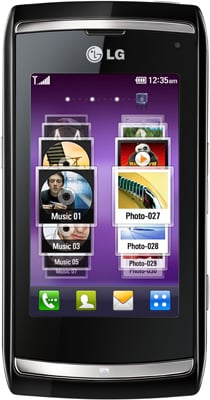 Supplied headphones are best seen but not heard
You can connect to the Internet using the Viewty Smart's fast HSDPA 3G (up to 7.2Mbps download) network connection, or even faster broadband via Wi-Fi. The browser allows you to zoom in or out by pinching with two fingers. It's not quite as smooth as the iPhone's multi-touch operation, but it's not bad. There's a YouTube app and LG has done a deal with Blogger, allowing you to upload pics and updates direct to your blog.
COMMENTS
@Richard Harris
Had the phone suffered from poor reception, a tinny speaker and the microphone might only be in the right place if you have a head the size of a walnut we'd have mentioned it. It didn't, so we didn't.
@handle
So where is this mythical camera with the massive sensor and only 3 mega pixels ? Should have zero noise at any ISO setting cos the pixel density would be so low...... but it don't exist, cos density was never the prob. Remember the Fugi F30 ? it used Super CCD sensor with octagonal pixels. This INCREASED pixel density and also LOWERED noise.
Get your facts stright.
@Brian 6
I had the old Viewty with a 5MP camera and a SE K800 with a 3.2MP camera.
The pictures taken with the Viewty were always absolute crap compared to the supposedly inferior SE camera.
Why read the review?
@Rosco
Why read the review?
I am currently looking for a new handset, call quality & reception are of more importance than other features. So I read all the reviews to find a phone that has the call quality I want, I am using a Nokia N80 and it is above average in this area but I am looking for something better.
So if you know a better way to find this info other than reading reviews please share it.
@Brian 6
1) Phil Arundell never compared a phone camera to an SLR. Just a bog-standard compact digital camera would be ashamed to take pictures like the ones in the sample shots.
2) Noise IS caused by pixel density: the smaller the pixels, the less light-collecting area you have per unit area of sensor surface, which is equivalent to less light falling on the sensor.
Be careful when you accuse others of looking "silly" - it might come back to slap you in the face.