The 8Mp camera is one of the most fully featured we've yet seen on a camphone. It's easy to use, with lots of default 'auto' settings, but also has plenty of options for tweaking.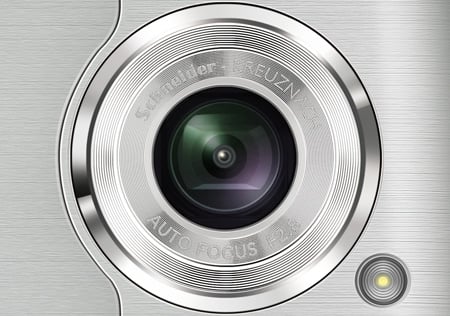 More smart camera than smart phone
You can take snaps by holding down the shutter button on the side or by pressing the onscreen slider, which also allows you to toggle between still and video cameras. The 4x digital zoom can be operated by pinching and stretching two fingers, iPhone-style, on the multi-touch screen. It's a great little effect, but we found it more practical to use the volume buttons on the side.
The camera takes pics up to a maximum 3264 x 2448 pixel resolution. The settings are reached by an onscreen dial that you spin to reach the controls you want. As well as ten-second timer and six-pic multishot options, there's multiple face tracking to ensure you get everyone in focus. And if you select Smile Shot, it will automatically take a pic when it detects a smile – very useful for snapping truculent nippers. We were a bit disappointed by the Panorama setting though, and found it difficult to match up the three pics for a stitch-free landscape shot.
In Intelligent Shot Mode an onscreen meter appears which tells you how your settings are doing – not something we've seen on a camphone before. It shows five icons for subject, daytime light, nighttime light, backlighting and landscape and attempts to optimise them for the best setting. There are tons of effects too, including a couple which LG calls 'warm' and 'cold' – the former casts a orangey glow around the subject, the latter a sort of cool blue.
There's also the Beauty Shot feature we last saw on the LG Renoir, which gives a slightly softer focus effect to faces, the idea being that it's supposed to be a bit kinder to facial wrinkles and spots. It works, sort of, but we wouldn't recommend you rely on it to make your subjects beautiful. You can also geo-tag your pics thanks to the onboard A-GPS supported by Google Maps.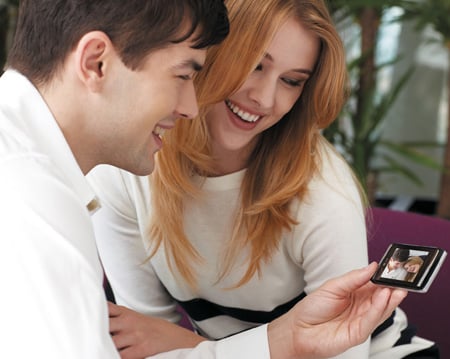 Beauty shot: removes wrinkles, but only in the digital domain
The flash is impressively bright for an LED, and it can also be switched on permanently in video mode. The Viewty Smart maintains a high standard with video, recording video at DVD (D1) quality up to 30f/s. You can also record in slow motion at 120 f/s or speeded up at 5f/s and there's a TV out option so you can view your pics and vids on your telly.
COMMENTS
@Richard Harris
Had the phone suffered from poor reception, a tinny speaker and the microphone might only be in the right place if you have a head the size of a walnut we'd have mentioned it. It didn't, so we didn't.
@handle
So where is this mythical camera with the massive sensor and only 3 mega pixels ? Should have zero noise at any ISO setting cos the pixel density would be so low...... but it don't exist, cos density was never the prob. Remember the Fugi F30 ? it used Super CCD sensor with octagonal pixels. This INCREASED pixel density and also LOWERED noise.
Get your facts stright.
@Brian 6
I had the old Viewty with a 5MP camera and a SE K800 with a 3.2MP camera.
The pictures taken with the Viewty were always absolute crap compared to the supposedly inferior SE camera.
Why read the review?
@Rosco
Why read the review?
I am currently looking for a new handset, call quality & reception are of more importance than other features. So I read all the reviews to find a phone that has the call quality I want, I am using a Nokia N80 and it is above average in this area but I am looking for something better.
So if you know a better way to find this info other than reading reviews please share it.
@Brian 6
1) Phil Arundell never compared a phone camera to an SLR. Just a bog-standard compact digital camera would be ashamed to take pictures like the ones in the sample shots.
2) Noise IS caused by pixel density: the smaller the pixels, the less light-collecting area you have per unit area of sensor surface, which is equivalent to less light falling on the sensor.
Be careful when you accuse others of looking "silly" - it might come back to slap you in the face.