LG GC900 Viewty Smart
Hi-res camphone at not so high a price
Review LG's latest cam phone is an extremely sleek and suave looking device with a feature-packed 8Mp camera, multi-touch screen, Wi-Fi, A-GPS and motion sensor. Despite the name, this isn't a smart phone, and isn't intended to be all things to everyone – it's focus (sorry) is very clearly on photography.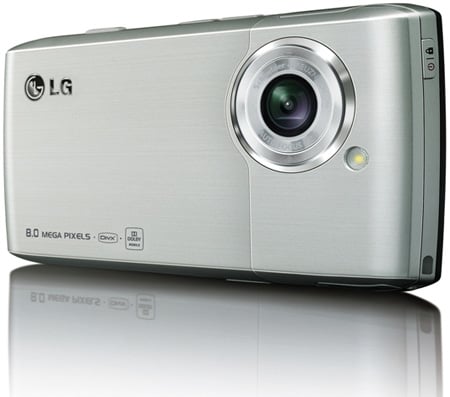 LG's Viewty Smart
At first glance the Viewty Smart cuts a dashing figure. It measures 109 x 56 x 12mm and weighs 102g, which makes it an exceptionally slim and fairly lightweight handful for an 8Mp camphone. The front is dominated by the 3in touchscreen and has but a single button – the silver or gold-coloured bar that stretches across the phone beneath the screen. In most situations, this acts as a home key.
Around the sides are a camera button, volume rocker, power/headphone socket (LG's own), microSD card slot and shortcuts button, with a power/phone lock button on top. From the back the Viewty Smart looks very much like a standard LG digital camera, with its brushed chrome finish, Schneider-Kreuznach lens and LED flash.
The Viewty Smart has the latest version of LG's S-class user interface and the home screen features six icons for your most commonly used apps, plus another four along the bottom. Skipping through the menus is fast and hassle-free, and certainly faster than the LG Arena. Pressing the menu icon gives you four rows of four app icons each of which can be scrolled to the side to reveal more.
Turning the phone on its side activates the accelerometer and, in landscape mode, all 32 icons are revealed on the screen. Incidentally, that shortcut key on the side pulls up a spinning cube icon that offers an alternative way to find your apps.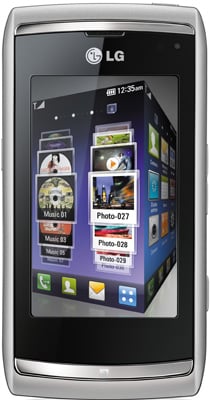 The cubist approach to application navigation
The 3in WVGA touch screen offers 800x480 resolution and it's a bit of a gem. The large surround left us feeling slightly cheated, but only because we've got used to touch screens stretching to the edge of their devices. That niggle aside, it's clear, bright, sharp and extremely sensitive, although you'll need a nice, sharp tap to activate onscreen buttons.
COMMENTS
@Richard Harris
Had the phone suffered from poor reception, a tinny speaker and the microphone might only be in the right place if you have a head the size of a walnut we'd have mentioned it. It didn't, so we didn't.
@handle
So where is this mythical camera with the massive sensor and only 3 mega pixels ? Should have zero noise at any ISO setting cos the pixel density would be so low...... but it don't exist, cos density was never the prob. Remember the Fugi F30 ? it used Super CCD sensor with octagonal pixels. This INCREASED pixel density and also LOWERED noise.
Get your facts stright.
@Brian 6
I had the old Viewty with a 5MP camera and a SE K800 with a 3.2MP camera.
The pictures taken with the Viewty were always absolute crap compared to the supposedly inferior SE camera.
Why read the review?
@Rosco
Why read the review?
I am currently looking for a new handset, call quality & reception are of more importance than other features. So I read all the reviews to find a phone that has the call quality I want, I am using a Nokia N80 and it is above average in this area but I am looking for something better.
So if you know a better way to find this info other than reading reviews please share it.
@Brian 6
1) Phil Arundell never compared a phone camera to an SLR. Just a bog-standard compact digital camera would be ashamed to take pictures like the ones in the sample shots.
2) Noise IS caused by pixel density: the smaller the pixels, the less light-collecting area you have per unit area of sensor surface, which is equivalent to less light falling on the sensor.
Be careful when you accuse others of looking "silly" - it might come back to slap you in the face.