Wyplay Wyplayer
Media player with PVR pretensions
You can play back directly from devices connected via USB, though we found that at times these weren't recognised until we restarted the Wyplayer. NTFS is supported, together with FAT, ext2 and even HFS for Mac users. If you're going away on holiday and want to take a collection of films or music with you, you can also use the USB B port on the rear panel to plug the Wyplayer directly into a PC, and it'll appear to be a hard drive, so you can load it up with content.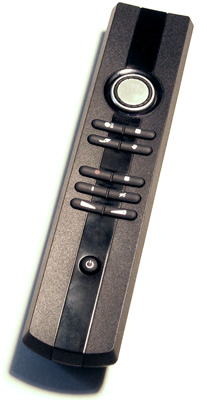 The minimalist remote won't appeal to everyone
If you can cope with some of the GUI peculiarities you can actually move TV recordings off the unit. Simply find the file you want, press Mark, then navigate to where you want to copy it, press Action, and then choose Duplicate. TV recordings are saved as the raw transport stream, in .ts files, so you can play them – subtitles and all – with VLC or MPEG StreamClip and convert to other formats if desired.
As a twin-tuner PVR the Wyplayer works well, but it lacks polish for the UK market. You can create 'favourite' lists of channels, which you'll need – with no number keys, there's a lot of wheel turning to scroll through the list otherwise. We also found remote performance seemed a little sluggish when recording.
You can add padding to the start and end of recordings, and set repeat recordings for a specific number of occurrences, but there's no support for the automatic series links of Freeview+, nor for its accurate recording triggers.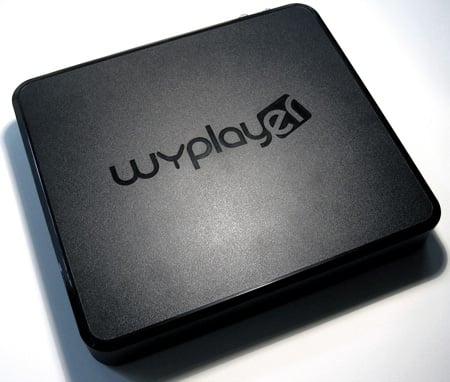 Does the job, but with some tweaks could be better still for UK buyers
Likewise, there's no support for interactive services, and frankly the EPG navigation on the Wyplayer is pretty poor. It's slow, and you can only see three channels at a time. Add to that the fact that Freeview HD won't work with the DVB-T tuners in the WyPlayer and it's perhaps best for UK buyers to consider having a standard definition Freeview tuner inside this media player is more of a useful extra, rather than the Wyplayer's raison d'être.
Verdict
The Wyplayer is rather let down by minimalist remote that will undoubtedly frustrate and the lack of support for Freeview+ programming features. Still, having the ability to record from Freeview will make it even more attractive to some, because, if just you want a media player that will handle most things you can throw at it, then the Wyplayer is actually a pretty good bit of kit. ®
More Network Media Player Reviews...

Netgear EVA9150
Digital Entertainer Elite

Archos TV+ 250GB

SiliconDust HDHomeRun

Solwise DMP-1120w
Sponsored: Minds Mastering Machines - Call for papers now open

Wyplay Wyplayer
A decent media player, but the lack of UK-specific Freeview functions means it doesn't really excel as a PVR.
Price:
€410, approx £352 with 500GB hard drive RRP