Wyplay Wyplayer
Media player with PVR pretensions
Playing back media is fairly simple; press the 'Universe' key to select what you want to do, and scroll the wheel between video and photos, music, Internet and TV. Press to select, and then you'll see a list of the available servers, plus content that's stored on the Wyplayer's hard drive, and in some cases, additional options, like YouTube when you're viewing video and photos.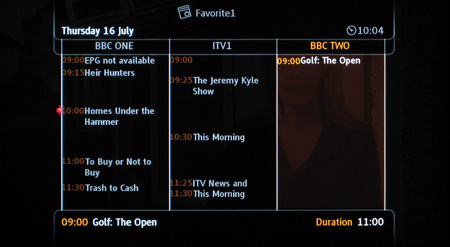 The EPG doesn't compare well with UK-specific kit
The scroll wheel moves up and down, and pressing will start playback, or you can go right to enter a folder, left to go back a level. A mark button allows you to select files, while the Action button brings up a menu that allows you to take some action on the marked items, like delete them, add them to a list, or copy them. The Navigator button brings up a list of other options. Select TV, for instance, and it offers a sort of extended now and next for the current channel, while the Action button gives choices like EPG and timer settings.
As you'd expect on a media player or digital TV, there's an info button too. When you're playing media, you can examine it's attributes, and even set parental control ratings. When watching TV, though, all it does is bring up a progress bar, allowing you to scroll backwards and forwards through as much of the current show as has been buffered to disk – for programme details, you need that Navigation button. It's certainly quirky, and we found it frustrating compared to more conventional ways of watching Freeview.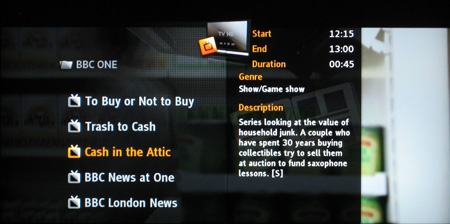 This extended 'now & next' is the only way to view the details of the current programme
Internet services include support for RSS feeds, podcasts and Internet radio, as well as YouTube in the video section. Most of this, though, you have to configure on the WyPlayer site, before the box signs in and retrieves the links you've set up.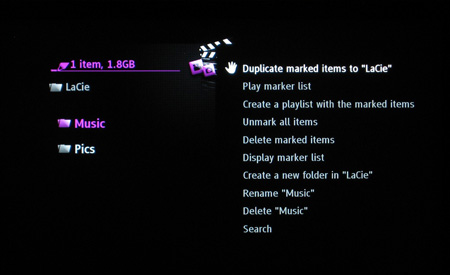 File copying to and from the internal drive
In terms of media playback, there's wide format support, and almost everything we threw at the Wyplayer worked fine – with the exception of a handful QuickTime and DivX HD files, though others of their kind worked fine. Support extends to H.264, including AVC HD files from camcorders, and MKV files with H.264 or VC1 content, and picture quality was extremely good via the HDMI port, which claims support for 24p, as well as 1080i.
Sponsored: Minds Mastering Machines - Call for papers now open