Apple MacBook Pro 13in June 2009 release
Apple finally notices there's a recession
There are no real surprises in terms of performance, although the new model's processor did a little better than we'd expected. You'd expect its 2.53GHz processor to be just a little faster than the 2.4GHz chip used by the faster of the original 'unibody' models, but it actually pulls ahead by a comfortable margin of more than 10 per cent.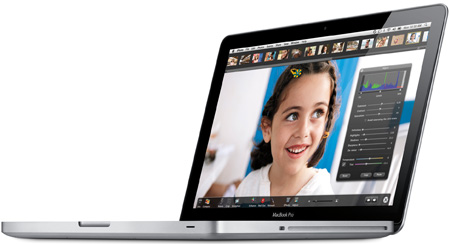 Duel fuel: as with all current Macs, booting as a Windows machine is an option
The laptop manages 62f/s when running Doom 3, compared to 55f/s for its predecessor, and it runs Windows Vista quite handily too if you need to use Apple's Boot Camp option to run Windows occasionally. That performance boost, combined with the slightly lower prices, provides better value for money and we expect that the 2.26GHz model costing £899 will sell particularly well.
Both models share the same glossy-coated 1200x800 resolution screen, which Apple says has now been updated to display 60 per cent greater colour 'gamut'. That will keep the design and photography crowd happy, though there's no obvious difference to the untrained eye. Some users still prefer non-glossy screens for graphics work, but that's less of an issue with this model, as you're unlikely to be doing a lot of detailed graphics work on a 13in screen.
Other features include a GeForce 9400M graphics processor that shares 256MB of system memory, 802.11n wireless networking, built-in webcam, Ethernet, two USB 2.0 ports and mini-DisplayPort for connecting to an external monitor. And, bowing to the howls of outrage from Mac users who like their high-speed Firewire hard disks, Apple has reinstated the Firewire interface that it dropped from the previous model.
In fact, it now gets the even faster Firewire 800 interface used by all the other Pro models, rather than the Firewire 400 still used by the ordinary white MacBook. There's no ExpressCard slot but, like the 15in MacBook Pro that we reviewed recently, it has gained a new SD card slot that can be used to transfer photos from a digital camera or – in a pinch – to boot the machine from an SD card.

At last, FireWire returns. Will Apple ever learn?
The other important feature that it now shares with the other MacBook Pro models is the new long-lasting – but non-replaceable – battery. Apple's press release announcements seem to imply that the 13in and 15in models both have the same '7-hour' battery. However, we suspect that the 13in model has a smaller battery – which, of course, would hardly be surprising given the smaller amount of space available inside the unit.
Sponsored: Minds Mastering Machines - Call for papers now open