Lexus unveils hybrid
Prius' big brother
Leccy Tech Lexus has launched its first dedicated hybrid. Called the HS250h, it is the first model in the Lexus line-up that will be available exclusively as a hybrid. Think of it as the Toyota Prius' posh big brother.
In US spec, the HS250h is powered by a 2.4l four-cylinder petrol engine that pumps out 147bhp but it also has an electric motor connected to a 400V NiMH battery pack in the boot that when fully charged can boost the system power output to 187bhp.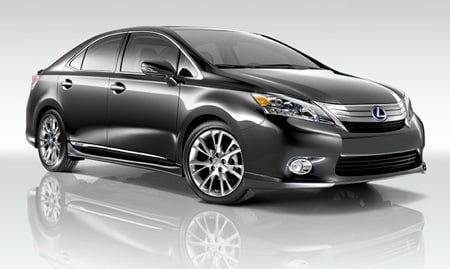 Lexus' HS250h: built for economy rather than performance
Like the Prius, the HS250h uses an Atkinson-cycle engine in which the expansion/power stroke is longer than the compression stroke making for greater efficiency but less outright power. It also makes use of a continuously variable transmission.
Lexus claims the HS250h produces 30 per cent better fuel economy than any other model in its range, emphasising that the hybrid drive train has been optimised for economy rather than performance.
Like the Prius, the HS250h has only limited electric-only performance: the battery needs to have at least a 50 per cent charge and you need to be moving at less than 20mph.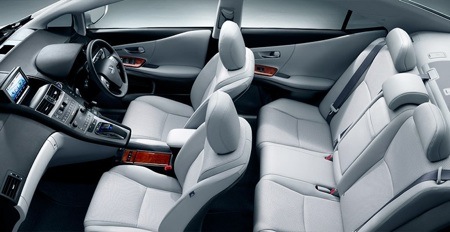 Made from "ecological plastic", it says here
Lexus also boast that a third of the interior and luggage area is covered with what it calls "ecological plastic" made from a carbon-neutral plant source.
Prices in Japan start at ¥3.95m (£25,600/$42,000/€29,800) suggesting the HS250h will sit between the IS and GS ranges, which in the UK start at £22,410 and £34,360, respectively.
The HS250h is currently only available in Japan and though sales in the US are scheduled to start in a few months no date has yet been set for a European launch. ®
Sponsored: Minds Mastering Machines - Call for papers now open