Synology Disk Station 409Slim
Laptop storage drives nano Nas box
It may cut back on size, but the DS409 Slim doesn't cut back on features. Granted, its diminutive size limits the interfacing to a single Gigabit LAN port, a pair of USB sockets and an eSATA connector. Yet all the standard functions of Synology's excellent firmware are there – and that means you get a lot of options.
Multiple RAID formats are supported, including JBOD, RAID0, RAID1, RAID5, RAID 5+Spare and RAID6. You can incorporate additional external drives into the array using one of Synology's purpose-built enclosures and you can convert between different RAID levels with ease.
Synology's firmware is very impressive, not least because of its excellent web-based user interface. The massive array of choices runs to way more than a screenful on most monitors, but the company has taken a lot of care over the interface design. By taking a modular approach the whole process feels simple and almost enjoyable.
For example, the main management interface offers Wizard and Expert modes. By starting off in Wizard mode, you arrive at a rather pretty, icon-based page which takes you straight to the options you'll most likely want to set up first; creating users and setting up shared folders.
It also gives you quick access to backup and FTP server configuration, as well as helping you set up a fully fledged Web server, including PHP/MySQL and Photo Station, which allows you to create a photo and video-based blog which can be optionally shared over the Internet.
Power Consumption (Watts)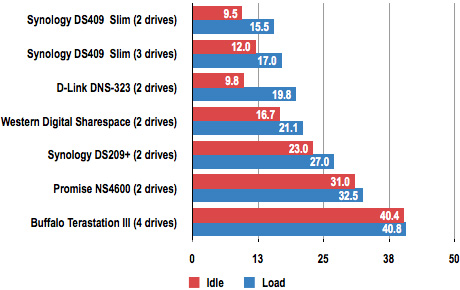 Shorter bars are better
In addition to all the usual network file sharing capabilities – for up to 64 simultaneous users from a maximum of 1,024 accounts – you also get support for Windows Active Directory Services, network re-cycle bins and email system notifications.