Sony whips up fresh Walkman players
Zappin', apparently
Sony has unveiled a pair of new "entry-level" Walkman music players.
The E440 series sports a 2in, 320 x 240 LCD display and is video-capable, playing back MPEG 4 and H.264/AVC files copied across from... iTunes. Yes, if you can't beat 'em, join 'em.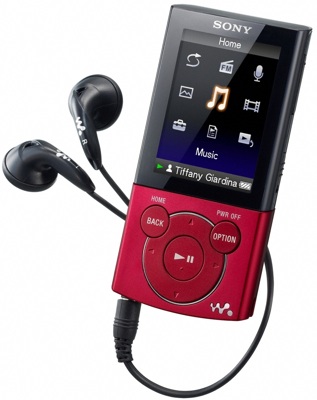 Sony's Walkman E: Clear sound, apparently
The 9.3mm-thick Es will play WMV videos too, plus WMA, AAC and MP3 audio. They've an FM tuner on board, a five-band equaliser and a stack of Sony automatic sound-tweaking technologies marketed under the Clear brand.
The E-series players will show JPEG photos too.
Available in 4, 8 and 16GB capacities - not to mention red and black colour schemes - the E440s provide up to 30 hours' music playback and will run for six hours showing videos, Sony claimed.

B series: Shuffle-plus
The B140 line-up comprises slim 2GB and 4GB models in a host of colours. Some models have FM tuners, others don't, but they all have a three-line LCD, WMA and MP3 playback, five-band equaliser and an 18-hour music playback runtime.
The players have a feature Sony calls "Zappin'" - who comes up with these names? - which "plays a few instantly-recognisable seconds from within each song" so you can quickly pick tracks without having to peer at the screen. In which case, why put a screen in?
Sony didn't say how much the various new models will cost here, but they'll be out by the end of the month. ®
COMMENTS
re: Why
Why? because Walkmans sound considerably better, they are build considerably better, and they aren't DRM laiden like the iPods are.
Why
Why do they make mp3 players any more, the likes of Sony etc. then they allow you to use itunes?
I'm not a fanboy of apple. but come on its is one of the better legal methods of getting stuff onto the ipod iphone etc.
I know you can buy the cd's and rip them. i never used to buy audio tracks as i used the free internet radio just to listen, but got bored, but since getting my ipod touch then the iphone 3g. I have got loads from itunes...
Steve icon, he may be the Devil but the shit works well