Garmin Nüvi 1340T
Slimline satnav that's also thin on features
Finally, Garmin reckons you'll get up to four hours out of the battery. In our tests, which had the brightness set to full and a constant GPS connection, the low battery warning appeared after 2hrs 15mins, before the power finally ran out half an hour later. Charging is performed via USB (a 12v car adapter is included), but it's frustrating that there's no charge indicator to let you know when the battery is at full capacity – the power meter is only viewable when the device is unplugged and switched on.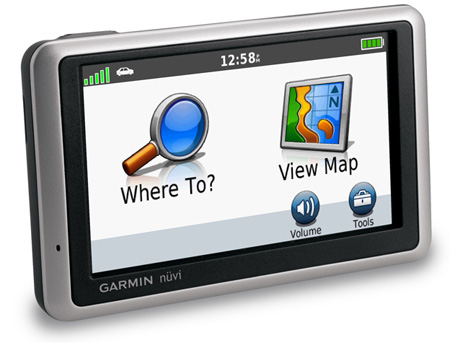 A missed turn? Garmin could have packed more into this model
As for the competition, TomTom's latest sat nav with Western Europe, the Go 740 Live, is dearer at £279 but also comes with countless extras such as voice control, Bluetooth and subscription-based live traffic updates via a built-in GPRS module. Meanwhile, Navman's S200 Europe is £229 and features Bluetooth along with an FM transmitter. You can get a flavour of the Go 740 and S200 by reading our head-to-head of the Go 540 and S100 which are essentially the same models but with UK mapping only.
Verdict
Despite being impressed with its navigation skills and usability, £219 just seems a bit steep for the Nüvi 1340T, especially since there's no Bluetooth, which is useful for hands-free calls as well as providing more up-to-date traffic reports. Many will question the range of features TomTom and Navman cram into their models, but fact is the Nüvi 1340T should be cheaper considering it offers less. If you've no need for street maps for Western Europe, the Nüvi 1300T (£189) is essentially the same device but with UK and RoI maps. Further costs can be saved by ditching traffic alerts and opting for the Nüvi 1300, which represents far better value at around £169. ®
More Satnav Reviews...

Coyote Systems
Mini Coyote

Mio DigWalker C620T

Navman S30 3D

TomTom GO 530 Traffic

Garmin Nüvi 1340T
Solid navigation credentials, but expensive considering the limited functions.