Garmin Nüvi 1340T
Slimline satnav that's also thin on features
Lane Assist helps you avoid making last minute swerves on some, but not all motorway junctions, and Garmin has sensibly avoided going down the utterly pointless 3D landmark route favoured by the likes of Navman. One annoyance is that it's not possible to edit or even view your basic itinerary, which is a pain if you want to swap a couple of 'via' points around, for example.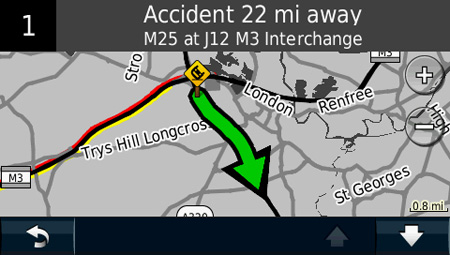 Traffic Master updates require the FM antenna to be attached
Traffic updates are supplied free-of-charge via the Trafficmaster service. In order to access these traffic alerts you need to attach the FM antenna to the charging cable, and unless you're very careful you'll simply end up in a tangle of wires. What's more, you'll only be alerted to hold-ups on major roads.
Safety camera alerts courtesy of Cyclops are built in, but if you want to keep them regularly updated you'll need to fork out £20 per year. In our tests, it successfully warned us of fixed cameras as well as mobile hot-spots, but it knew nothing about a red-light camera on our test route that's been there for many years.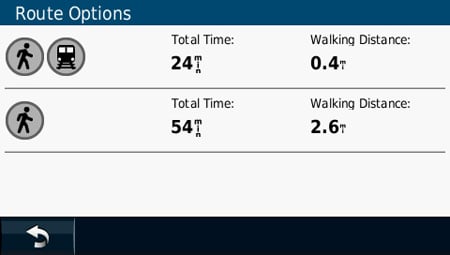 The pedestrian mode gives you various journey options…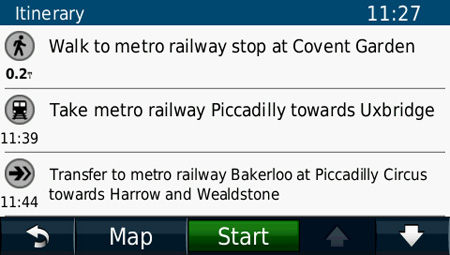 …and with the appropriate CityExplorer module installed it can tell you which tube lines to use
Bikes, of the pedal variety, are catered for thanks to the Bicycle mode. It's very basic, though, and essentially just keeps you off motorways. A Pedestrian mode is also available. To make the most of this you'll need to purchase a CityExplorer map. These are available for major European cities and cost from £7.49.