Dell Studio 15
Designer chic without price or performance penalties
Tucked away inside is a dual band Intel WiFi Link 5100 802.11a/b/g/n card which operates in both the 2.5GHz and 5GHz bands, so you've got extra choice when it comes to trying to find a free spot of the airwaves and there's Bluetooth built in too.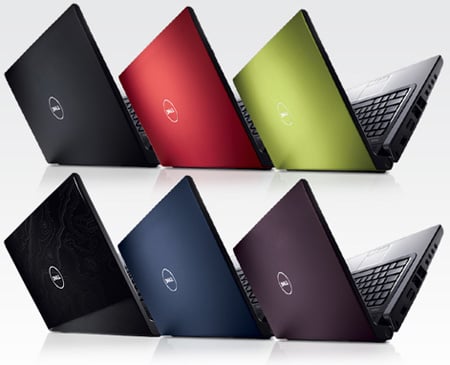 Dell offers personalisation both inside and out with the Studio range
The 15.6in screen stretches to a 720p friendly resolution of 1366x768 pixels. For an additional £70 you can opt for a full 1080p 1,920x1,080 panel, although on a screen of this size unless you've got 20/20 vision you may find such a high resolution a little on the small side. If you still want to make the most of 1080p content, you can always hook it up to a suitable large screen TV via the HDMI port.
Another option is the Studio 17. This is Dell's version that features a 17in screen with a resolution of either 1440x900 or 1920x1200. However, the 256MB ATI Mobility RADEON HD 3650 as the only GPU option will no doubt disappoint a few potential buyers. As these models use a glossy panel, you can expect vibrant colours but with the downside of increased reflectivity. If there are any bright lights behind you, then they'll be very noticeable reflected back in the display. Above the screen sits the usual webcam, in this case a 2-megapixel model.
While hardly earth shattering, the Studio 15 now features a 3W sub-woofer that beefs up the sound, so it's certainly good enough for watching DVDs, listening to music or viewing internet video. Also, by utilising the combination of audio interfacing on this model, it's possible to get 5.1 surround signal out of it to hook up to a multichannel entertainment system.
The keyboard is a decent size and pretty good to type on, but it is missing a couple of keys you'd expect such as Scroll Lock and Pause/Break. Admittedly, they're not the most widely used keys these days but, if you have a specific need for them, their absence may be a problem. The F keys along the top row have also been relegated to secondary status, with each key's primary function assigned to operations such as volume, screen brightness or controlling wireless connections.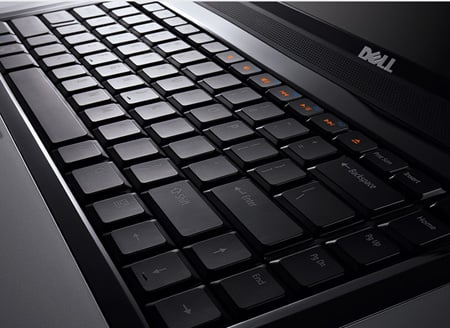 Some keys are missing, but shouldn't bother most users
If you often find yourself working in less than perfect light conditions, then the backlit keyboard will at least mean you can find the keys you want without having to peer closely at each one individually. The touchpad is seamlessly integrated into the laptop's wrist rest, although it feels a little rougher than the surrounding plastic and it's indented slightly. It's a good size with big buttons that are easy to locate without having to take your eyes off the screen.