Cutting the cord: future mobile broadband tech
How internet on the go is going to get much faster
In-filling the generation gap
The first thing was improved download speeds - pushed from 384Kb/s up to (a theoretical) 14Mb/sec - a significant increase, though that's what HSDPA (High Speed Data Packet Access) technology will support, rather than what operators yet have rolled out.
HSDPA uses improved 3G encoding, in much the same way that Edge improved GPRS connections, but it also requires more intelligence in the basestation to schedule data delivery to take maximum advantage of the bandwidth available. That intelligence also extends to resending missed packets, which reduces latency significantly but at the cost of processing and storage at the basestation.
3GPP UMTS Timeline

Latency on W-CDMA networks runs between 100ms and 200ms, compared to something in the region of 300ms for Edge, but HSDPA can keep the latency well under 100ms, enough to make the difference between parrying the blow and having one's arm lopped of in any decent online world.
For uploading data, the industry standardised on EUL (Enhanced Uplink), also known as HSUPA (High Speed Upload Packet Access). EUL creates a new uplink channel specially to carry up to 5.8Mb/s from the handset to the basestation, though most handsets can only manage about 2Mb/s for the moment, which should be enough for most applications.
The combination of HSDPA with EUL is known as HSPA (High Speed Packet Access) and is widely deployed in the UK, at least as long as one doesn't wander far from a major city. Like 3G, HSPA isn't very good at getting in to buildings, being stuck at 2.1GHz for historical reasons that will shortly cease to exist. The 2.1GHz doesn't offer much in the way of range either. Being allowed to deploy 3G at lower frequencies is on the wish-lists of most operators, a wish that regulators around the world are well on the way to granting.
HSPA is also evolving into HSPA+, also known as HSPA Evolution, which promises to deliver download speeds of 42Mb/s, with 11Mb/s on the return path, at least in theory. HSPA already uses a basic form of Mimo (Multiple Input Multiple Output, but HSPA+ allows for the creation of two independent connections on separate frequencies - thus occupying two 5MHz-wide bands - as well as more-traditional Mimo utilisation.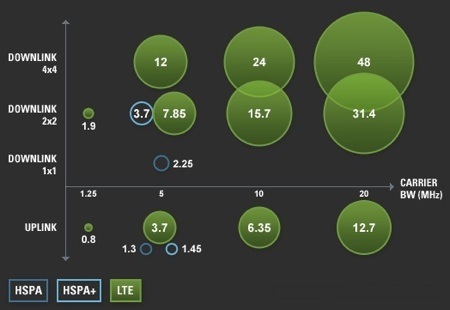 Sector Throughput (Capacity): HSPA vs LTE
Source: Motorola
HSPA+ also promises an all-IP architecture, using the Internet Protocol for everything, a technique also applied by 4G technologies. In fact, HSPA+ employs many technologies associated with 4G, with the notable exception of OFDM.
Sponsored: Minds Mastering Machines - Call for papers now open