Asus punts monitor with built-in TV tuner
Or should that be 'TV that works like a monitor'?
Most if not all HD TVs now have computer VGA and/or DVI connections, but that hasn't stopped Asus coming at the problem from the other direction and introducing a boundary blurring monitor that has a built-in TV tuner.
TV Monitor T1 Series comes in 21.5in, 23.6in and 27in sizes but all of them deliver a 1920 x 1080 resolution. The brightness, panel buffs, is 300cd/m², while the contrast ratio is 20,000:1. They can show 16.6m colours.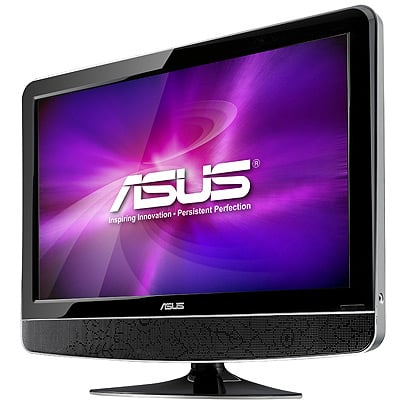 Asus' T1: Is a monitor? Is it a telly? No, it's both
The screens have both digital - DVB-T, so handy for Freeview broadcasts should the T1s make it to the UK - and analogue tuners, along with a pair of HDMI 1.3 connectors plus VGA, component-video, composite-video, s-video and two Scarts (one is RGB and CVBS, the other s-video and component) for hooking up other picture sources.
Asus bundles a VGA cable, but you'll have to pony up yourself cords for the other ports.
On the audio side, the T1s have RCA, 3.5mm and optical SPDIF outputs, plus a pair of 7W RMS speakers.
Launched in Taiwan this week, there's no word yet when or if the T1s might arrive over here. ®
COMMENTS
Signal
Its probably not intended for the workplace market but if i manged to sneak one of these onto my desk at work when my current monitor has an "accident", I guess I'll still need a coax lead to an ariel on the roof, which would be hard to get sorted except for the boss.
Leaving aside fitting some kind of PVR, which rather misses the point, does anyone have any ideas how to solve this or do these come with an internal ariel that will pick up TV, perhaps digital when the signal is boosted post analogue switch off?
Groundbreaking!
Next they'll be selling cameras with built in phones....
This isn't new
Samsung and LG have been offering monitors with digital TV decoders and extra input types for a while, as have a lot of cheap manufacturers. You only need to browse eBuyer/Dabs/Scan/etc to see a long list of these. Still, extra competition means cheaper prices, and it's an obvious feature to add for consumer purchasers.
So when will there be a comparative review?