What happens to Dell's deduplication now?
Data Domain deal knocks Dell's ducks out of line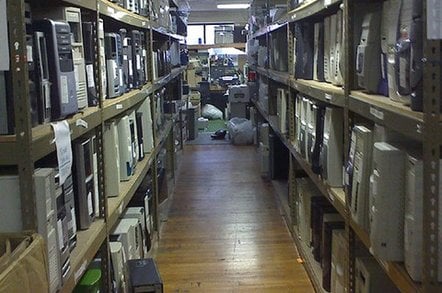 Comment Dell has a three-way deduplication strategy that uses CommVault, EMC/Quantum and Symantec technologies. EMC has bought Data Domain, putting the Quantum technology at risk of replacement. What will Dell do?
Back in November Dell said it would develop a single Quantum (DXi)-based de-duplication architecture across its PowerVault, EqualLogic, and Dell/EMC product families, to allow customers to replicate and de-duplicate data across multiple sites, such as from departments or branch offices to the data centre. The aim was to to simplify de-duplication functionality across its storage portfolio.
Dell didn't spell out how this would be done. An implication was that each storage product family would either have deduplication and replication built in, included with its controller software, or available via a connected appliance. It is hard to see how a connected appliance could constitute an architecture, however.
This clean and direct concept was muddied by Dell announcing its DL2000 disk-to-disk-to-tape (D2D2T) product, which uses CommVault Simpana 8 software to provide sub-file-level deduplication for data that is being backed up or archived. The DL2000 is a target that is sent data which is deduplicated and stored on an attached drive array or tape device.
Dell has also said it is developing a Symantec-powered source deduplication product, which could mean that it will be PureDisk-based. This technology can deduplicate data where it originates, at its source, using a PureDisk-based client, or it can be used on a media server to deduplicate data that NetBackup is sending to a storage device.
A DL1500 is coming from Dell later this year, and it seems to be a more-or-less resold EMC DL1500 Quantum-based disk library, a deduplication target.
Instead of simplifying deduplication, we have seen a complicated 3-way strategy emerging from Dell. This could now embrace a fourth technology: the one from Data Domain.
EMC has won the bidding war for Data Domain and the acquisition should close by the end of July. EMC will then have two backup deduplication target product lines, the one licensed from Quantum using DXi technology and the one now in-house from Data Domain. The risk to Dell is that EMC will maximise its profitability by pumping out Data Domain boxes through its channel and let the Quantum deal lapse.
EMC's intentions with Data Domain are unclear. An EMC spokesperson said: "Because of the terms of (Data Domain's) agreement with NetApp... EMC and Data Domain were unable to enter into any form of discussions until this point. The acquisition is expected to close by month's end. In the meantime, the two companies will begin integration planning."
Having spent $2.1bn on Data Domain, EMC is unlikely to let the little matter of a $100m loan to Quantum restrict what it wants to do with its fresh shiny new deduping toy. The odds are that EMC will likely come calling on Dell and try to sell it on the idea of taking the Data Domain products. Both the DD120 remote office and DD500 mid-range products do inline deduplication, whereas the Quantum technology can switch from inline to post-process deduplication and does so when the incoming data stream would be slowed down too much by inline dedupe.
The risk for Dell now is that the single deduplication architecture spanning storage products is put on hold, because EMC is no longer fully behind it, and Dell has to evolve its deduplication strategy to embrace Data Domain. Will it say no when EMC offers it the chance to sell the hottest deduplication products in the market? I should think that Dell's product strategy people at Round Rock are working out how they can do it right now. ®
Sponsored: Minds Mastering Machines - Call for papers now open