Retailers prepped for Windows 7 family pack
October launch offer expected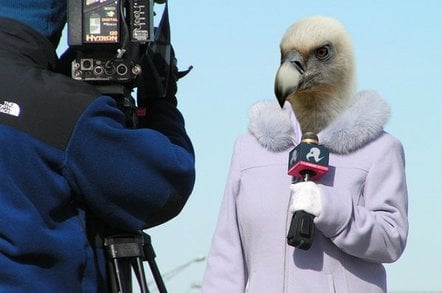 Microsoft can't admit it's got a Windows 7 Home Premium Family Pack in the works. But its partners can.
A salesman for online retailer Expercom contacted by The Reg on the phone Thursday morning confirmed Microsoft had sent information to distributors on a planned Windows 7 Home Premium Family Pack. The Reg contacted Expercom after ZDnet blogger Ed Bott uncovered it had been offering the pack.
But the pack is not being made available for pre-orders Expercom's team member told us.
That might account for the fact that Expercom and fellow online retailer Fadfusion also offering the Windows 7 Home Premium Family Pack have yanked the product from their sites.
Both company's sites carried messages as of Thursday morning that said the pack is either out of stock or has been discontinued. You can see the screen grabs from Expercom and Fadfusion below.
Fadfusion also posted Microsoft's official retail price for the family pack as $149. That compares to $199 for a new copy of Windows 7 Home Premium and $119 for the upgrade edition.

Expercon's Windows 7 Home Premium Family Pack is "out of stock"...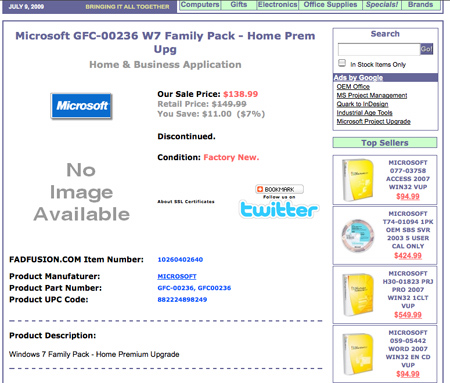 While Microsoft's family pack is "discontinued" at Fadfusion
It would not be the first time online retailers have prematurely posted info on forthcoming Microsoft products. Amazon sites have leaked pricing on up-coming versions of Windows in the past.
Microsoft again refused to comment on plans for the 7 Home Premium Family Pack. A spokeswoman told The Reg: "We will continue to work with our partners and expect to have other great offers in the future as we lead up to and beyond general availability. We have nothing to announce at this time."
But history suggests that a family pack is coming, that it'll ship on the same day as the Windows 7 launch, and that it'll come in the shape of a marketing promotion not a defined package, as - say - operating-system rival Apple's OS X Family Pack.
Microsoft launched a Windows Vista Family Discount Program on January 30, 2007, the date when Windows Vista received its consumer launch. The pack gave customers who purchased a copy of Windows Vista Ultimate the option to buy two further licenses for $50 for use on home machines.
The offer ran for five months and was attacked by customers for its price, the fact they needed to buy a full copy of Windows Vista Ultimate first, and that Windows Vista Ultimate offered no real perceived advantage in terms of features over other versions of Windows Vista. A full copy of Windows Vista Ultimate costs $319 new and $219 for an upgrade edition.
As the offer prepared to close on June 30, 2007, hapless Windows Vista team member Nick White said: "This was a trial for us to see how people responded to the offer and we've gotten lots of constructive criticsm [sic] as to how we could make it better if we were to do it again in future." ®
Sponsored: Minds Mastering Machines - Call for papers now open