Samsung i8910 Omnia HD
HD recording camphone, anyone?
At the back is the 8Mp camera lens, which sits within a slightly raised boss, and an LED flash/video light. It comes with a separate little fold-up desk stand, which can be attached, rather awkwardly, by a short lanyard.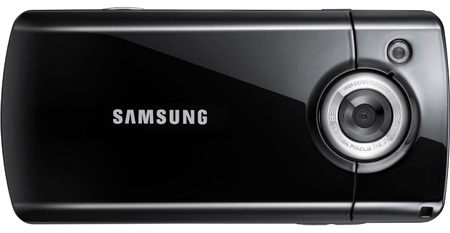 HD recording on a phone - could be the start of something
The i8910 runs on the Symbian S60 fifth edition OS, as does Nokia's 5800 XpressMusic, but the user interface looks completely different, thanks to the TouchWiz homescreen. It's familiar to the Samsung Pixon, among others, which allows you to choose widgets from a side bar and drag your favourites onto the home screen.
Actually, you have three home screens – accessed from the widget toolbar – so related apps can be kept in one screen, for example, one for media, one for business and one for fun. Annoyingly though, you can't have the same widget on two screens at once, which seems like a missed trick.
The 8Mp camera is one of the best we've yet seen on a camerphone. It will take pictures up to a maximum of 3264 x 2448 pixel resolution and comes with a good array of features, including face, smile and blink detection, panorama shot, timer, multi-shot and night mode. The multi-shot option allows you to take up to ten pics in quick succession.
The panorama setting is one of the most user-friendly we've seen. After the first snap, you turn around in a semicircle and the camera automatically takes the next pic when you're lined up, delivering six pics in all for a 180° vista. The drawback is that panorama shots are only 640 x 480 resolution. Despite having a similar spec it beats the recently tested 8Mp LG Viewty Smart for still camera pic quality, and the HD video puts it ahead of Sony Ericsson's C905.
The media player phone of choice?
Viewing video was a pleasure on the i8910. It can handle MPEG 4, WMV, DivX/XviD, H.263, H.264 and Real Video formats and there's the option to change the aspect ratio, stretching videos out to fill the screen. This wasn't always ideal however – widescreen movie trailers filled the screen with ease, but those from a native 640 x 480 format showed obvious signs of stretching.