Samsung N310 netbook
Style over substance
Software provision is mainly support apps, with Samsung's own battery management, network diagnostic and update and recovery software. There's no application software as such, so you'll be wanting something open source to start with, but McAfee AV and CyberLink YouCam, for video recording, do come pre-installed.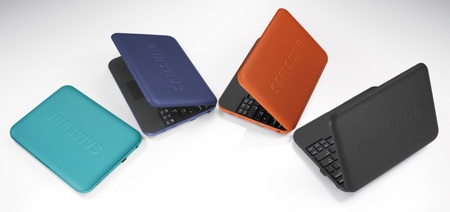 Available in a set of student-friendly colours
That N270 means the results of the PCMark05's CPU benchmark will be similar to most of those we'd seen recently. And so it is, as is the Memory score. The hard drive test shows nothing here to make the N310 stand out from the crowd.
The N310 has a four-cell, 29Wh battery, so you might expect an increase in battery life over the three-cell packs fitted to, for example, the Dell Inspiron Mini 10v or Acer's Aspire One D250. Under our heavyweight looping-video-on-full-brightness battery life test, though, it gave just 163 minutes, putting it well toward the bottom of our chart.
While you can expect to get maybe another hour or so out of a charge under less strenuous use - and further by adjusting XP's power settings - you're going to need to carry the power supply around with you on most trips. And all these adjustments can be made to all other netbooks too.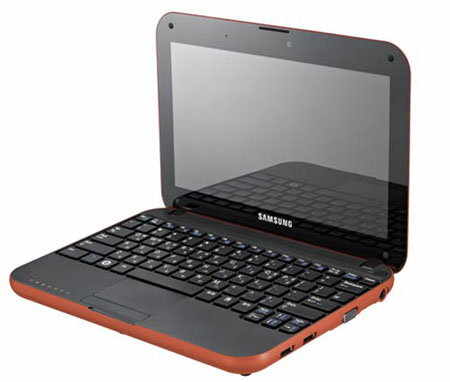 Blah
So what you have here is a neatly-styled netbook with good ergonomics, but nothing in performance terms that cries 'buy me' any louder than half a dozen others, and a lot less quietly than machines from Asus, Toshiba and - it has to be said - Samsung itself. If you feel the looks of this machine are worth an extra £50 or more, over a rival offering, there's little else to hold against your choice.
Verdict
The N310 is a machine you buy for its looks. The keyboard's above average, the touchpad's fine and the screen is bright and sharp. Its student-friendly design, while nice, just doesn't compensate for the chunky feel, undistinguished spec, poor battery life and ridiculous 'premium' price. ®
More Netbook Reviews...
| | | | |
| --- | --- | --- | --- |
| Toshiba NB200 | Dell Inspiron Mini 10v | Samsung N120 | Acer Aspire One D250 |

Samsung N310 netbook
The price is one of the highest we've seen for a netbook, but the N310 entirely fails to justify it.