Samsung N310 netbook
Style over substance
All the keys have the benefit of silver particles which prevents "99.9 per cent of bacteria" from breeding on them. It does leave you wondering whether the remaining 0.1 per cent, which say 'Pah!' to silver particles, aren't the most virulent, though.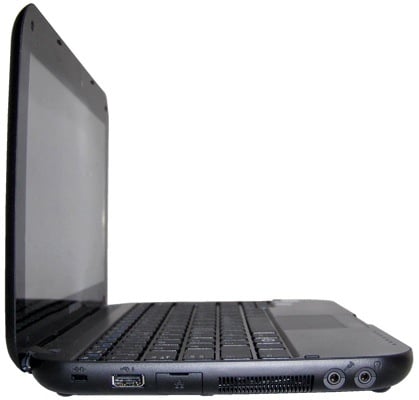 The Ethernet port's hidden under a flap
The touchpad and mouse-button are both mounted almost flush to the top surface of the case, which makes them comfortable to use, though the perimeter of the pad can be difficult to sense with a fingertip. There's no multi-touch support. For those into activity LEDs, there are seven of these: three keyboard lock indicators, together with power, battery, HD and wireless. They're fitted close to the front edge of the case, left of the touchpad.
Down the left-hand side of the case are a single USB port and a 10/100Mb/s Ethernet connector, along with analogue headphone and mic sockets. Opposite these, on the right, are two more USBs, the power feed and an VGA port. At the left end of the front lip is an SD card slot. Underneath, there are hatches for battery and memory, though the existing 1GB module would have to be replaced to upgrade. There's no ready access to the hard drive, either.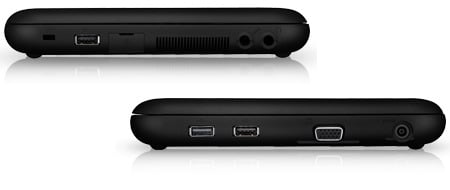 The case is endearingly symmetrical when shut
The N310 is built around an Intel Atom N270, running at 1.6GHz, coupled to an integrated Intel GMA 950 graphics processor, so absolutely nothing here to set the machine apart from the majority of its rivals.
That extends to the storage: the machine has a 5400rpm Sata hard drive of 160GB capacity, so there's plenty of room, not just for the copy of Windows XP Home which comes pre-installed, but for most of the data you're likely to want to store.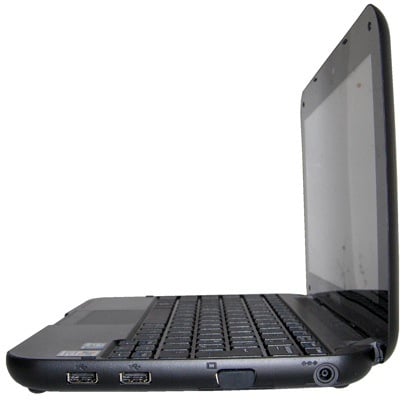 The VGA port's covered too - but then who'd ever use it?
The N310 has both 802.11g Wi-Fi and Bluetooth 2+EDR - again standard netbook features. Bluetooth is switched off by default, but the machine spots and logs into the wireless network of your choice, with very little fuss.