Asus F70SL
The world's first 17.3in notebook?
There were no surprises in PCMark05, with the T5850 proving enough to ensure an overall score of 3747. In 3DMark06, the Nvidia GeForce 9300M GS, which comes with 512MB of dedicated memory, cobbled together a result of 1537 at the F70SL's native 1600 x 900 resolution. This increased to 1959 at 1280 x 720 and 2106 at 1024 x 768. We also gave it a whirl with Call of Duty 4 and, as expected, results weren't great.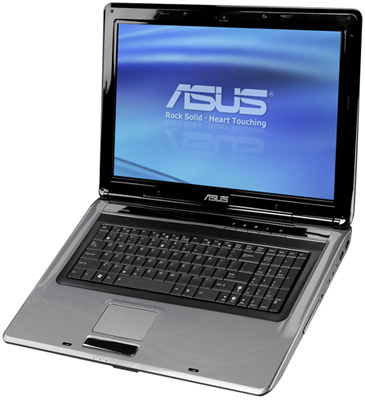 Nice big screen, but it's not full HD
At 1280 x 720 it could only muster up a very jerky 12.9f/s. Only when we dropped right down to 640 x 480 did the F70SL provide us with a playable 20.3f/s, but such a low resolution looks dreadful on a 17.3in screen.
The 4400mAh battery provided enough juice for PCMark05 to run in a loop for one hour and twenty-four minutes under the Power4 Gear High Performance mode. Switching to the Battery Saving mode, which among other things pulls the CPU back to 1GHz, increased the life to one hour and fifty-three minutes. Keep in mind that these are worst-case scenarios – go easier on the F70SL and you can expect around three hours, which isn't bad for a desktop replacement.
Verdict
If you can up your budget, the F70SL-TY129C version can be picked up for £860 and comes with a P8600 running at 2.4GHz. However, it's still saddled with the GeForce 9300M GS graphics chip. Our review model, the F70SL-TY076C has the slower T5850 CPU and, at around £740, is a better deal. Sure, it's no gaming laptop and the T5850 processor isn't exactly the fastest CPU off the block, but if you're looking for a well-built desktop replacement with a large screen, the F70SL packs in a fair amount for the price. ®
More Big Screen Notebook Reviews...

Apple
MacBook Pro 17in

HP
HDX16-1010EA 16in

Toshiba
Qosmio X300-13W 17in

Acer
Aspire 8920G 18.4in

Asus F70SL
The big picture is let down by lacklustre graphics but, for the price, it's still a good value option as a desktop replacement.