Asus F70SL
The world's first 17.3in notebook?
Asus ships the F70SL with a range of its own software utilities. The ludicrously named Splendid Utility lets you fiddle with display settings such as colour temperature and gamma control along with a range of presets to choose from. The Power4 Gear Hybrid tool provides a more attractive and user-friendly version of Vista's own power options.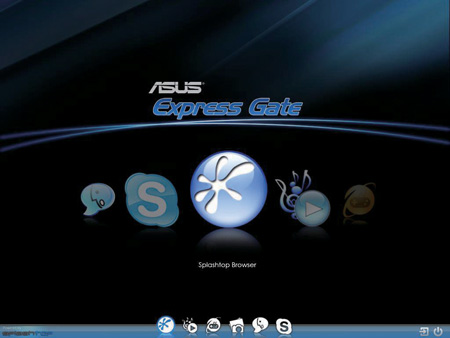 Express Gate: use it once and, most likely, never again
Asus' Express Gate software is also included, allowing you to boot into a Linux-based OS featuring various tools including web access, Skype and a media player. It takes around ten seconds for Express Gate to load, and we suspect it's something you'll use once before completely forgetting it ever existed.
Asus shouts about the F70SL's 17.3in screen being a full HD display, but with a native resolution of 1600 x 900 that's not entirely true. Actually, it's not true at all, since full 1080p HD video requires no less than 1920 x 1080.
Indeed, it's something of a shame that Asus didn't furnish the F70SL with a screen of this resolution – something managed by HP's 16in HDX16-1000, with Apple's 17in MacBook Pro offering a 1920 x 1600 resolution, albeit, at a price.
Thanks to its 16:9 aspect ratio, though, your movie viewing pleasure won't be ruined by stretched images or black bars. And being an LED backlit screen, it is also bright, vibrant and benefits from decent horizontal viewing angles.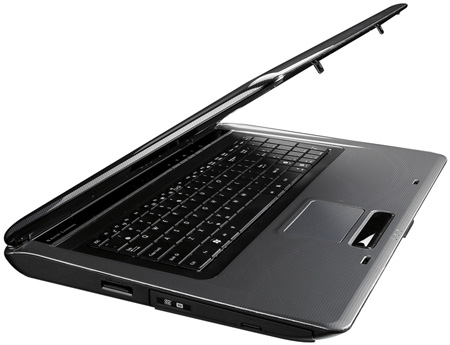 Storage capacity can be increased thanks to an additional drive bay
Given that this beast is ideal for watching gigabyte-hungry movies on, Asus has done well in providing it with a 320GB Seagate hard drive ticking along at 5400rpm. What's more, unscrew a plate on the underside and you'll find a spare drive bay awaiting an upgrade.