EMC plus Data Domain equals what exactly?
And what will NetApp do about it?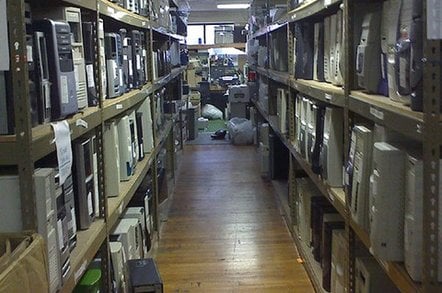 Comment Okay, it's over. The rotund female has started singing and EMC is buying Data Domain. But what happens next?
Firstly, Data Domain becomes a product division within EMC, as stated in Joe Tucci's letter to Data Domain employees.
Secondly, EMC will pump Data Domain's products through its sales channel, and this should greatly increase Data Domain revenues.
While EMC is doing this, however, it is also selling other deduplication products, specifically Avamar and Quantum ones.
It bought Avamar Technologies, a deduplication software startup, in 2006. Avamar software deduplicates data at its source rather than sending it to a backup device for deduping. Agent software runs on physical or virtual servers and deduplicates data before it is sent to a central Avamar repository. This is intended for a remote office/branch office (ROBO) and data centre type organisation, and deduplication works on a global scale throughout the organisation. Smaller ROBOS use the agent software whilst larger ones can have an Avamar server. The data centre can utilise a multi-node Avamar Data Store in a grid set-up.
EMC NetWorker backup software provides Avamar source-based deduplication for SharePoint, Exchange and SQL Servers, and Oracle databases. The newest version of Avamar includes support for SharePoint Server 2007 and Lotus Domino.
EMC also sells licensed Quantum DXi deduplication and replication software with its Disk Library VTL products. This product can do either in-line or post-process deduplication. EMC partner Dell licenses the DXi technology.
In comparison, Data Domain provides deduplicating storage arrays which do inline deduplication of arriving data, using quad-core Xeon processors running its own DD OS software. Backup software, such as EMC's NetWorker, can send the data to the Data Domain boxes. The Data Domain products also work with CommVault Simpana, IBM Tivoli Storage Manager, and Symantec NetBackup and Enterprise Vault backup and archiving software. There is a Data Domain appliance for ROBO applications.
On the face of it EMC now has two overlapping target deduplication technologies; its licensed Quantum technology and its shortly-to-be-owned Data Domain technology. The former is a VTL whilst the latter is not. The VTL can export backup data to tape whereas the Data Domain product cannot. But both can be written to by backup software. Although EMC positions the Disk Libraries as tape replacement boxes, this tape aspect could be used as the differentiating factor from Data Domain.
These two technologies also overlap to an extent with the Avamar Data Store, so EMC now has three data centre products which deduplicate and store data.
Against this background there are several questions that can be asked.
Will EMC give the Data Domain-based business unit the Disk Library and Avamar products?
Does the Data Domain deduplication software render the Quantum DXi software redundant and make it likely that EMC will de-emphasise and then drop the Quantum software?
If EMC is going to keep a separate Quantum-based deduplication product line, how will it be differentiated from the Data Domain one? Will it use tape integration to do this?
Will EMC add a post-process mode to Data Domain's software and so render the Quantum software even more redundant?
Will EMC add a migration path from Disk Library products to the Data Domain products?
Will EMC stick to Data Domain's roadmap and add Nehelem processors and clustering? Nehelem-boosted hardware should increase its speed. Clustering its boxes with global deduplication across the cluster nodes will remove a scaling limitation. Nehelem could come in 2010 with clustering in 2010 or 2011.
Will EMC try to get Dell to sell Data Domain products?
Will Data Domain's current executive team stay with the company?
There is also the question of what NetApp will do now regarding acquisitions. Will it go for another company EMC might not want it to buy?
NetApp's response is likely to be a long time coming. It will not want to get another bloody nose from EMC any time soon. We can expect fairly quick answers to the EMC questions. The acquisition will complete before the end of the month and EMC won't want to slow down sales revenues from any of its products, or see them transfer to competitors with less complex deduplication product lines. ®
Sponsored: Minds Mastering Machines - Call for papers now open