Samsung smartphone keyboard takes wing
Patent woos three-handed people
Samsung has filed a patent for a handheld device that trumps both the Palm Pre's too-tiny keyboard and the screen-hogging soft keyboard of Apple's iPhone.
The Korean company's solution is a two-piece keyboard that folds out from either side of the device.
The application, entitled Mobile Terminal Having Rear Keypad, envisions a device that appears to have wings - although despite its winged appearance, it won't be available on Samsung's "smarter than smartphone" Jet.
The handheld device - called a "mobile terminal" in the patent application - would have a touchscreen as do many of today's smartphones. The innovation is the addition of a two-piece, spring-loaded QWERTY keyboard that's stowed on the back of the device and folded out when needed.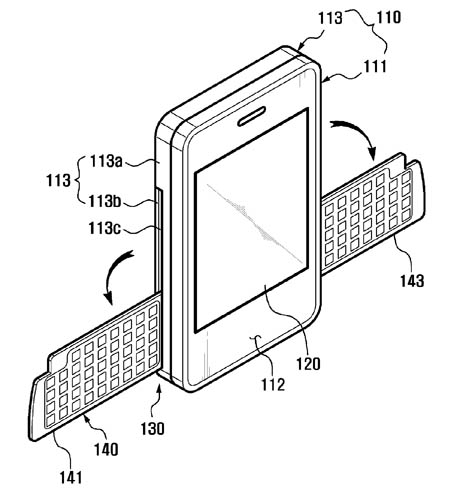 The application make no mention of whether the device will fly if tossed
In addition to providing larger individual keys, one advantage of this approach would be, as explained in the application, that "key input can be easily performed while viewing an image displayed on the touch screen."
As the application explains, not only would "character message writing" be made easier by the larger keyboard, but also interacting with games that require "many key inputs."
Unfortunately, the target market for this mobile terminal seems to be quite limited, as there are few smartphone users who possess the three hands required to best use the device - one to hold it and two with which to type. ®
Sponsored: Minds Mastering Machines - Call for papers now open