LG HS102 Ultra Mobile projector
No bigger than an office phone
All connectors, including the power socket and Kensington security lock, are located together on the back plate. Three inputs are supported: analogue VGA, analogue A/V and USB. The mini A/V port is the type supported by certain consumer camcorders and digital cameras, but you will have to invest in some cable adapters if you want to connect a DVD player or game console. An audio-out socket is provided if you do not like the tinny integrated 1W mono speaker, but there is no separate audio-in port.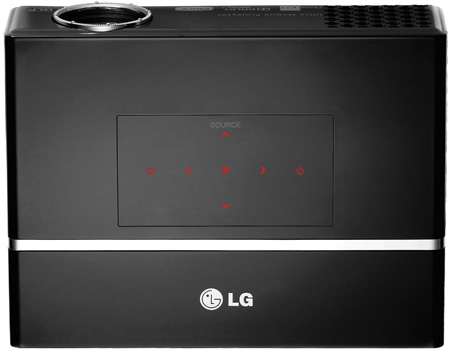 Basic LED-lit touch buttons help to navigate the onscreen menus
The USB port allows you to slot in a memory stick or a USB card reader and have the projector display the media files it finds. The built-in DivX player provides a simple browser for running a JPG image slide show, playing MP3 music or AVI, MPEG and DivX movie files. As media browser/players go, this one is quite basic but it is fine for everyday home and office use.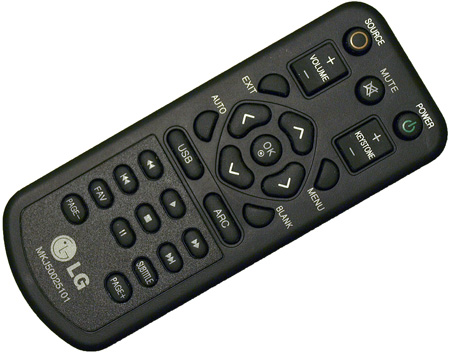 Includes a surprisingly well-featured remote control handset
Movies and music played OK: not brilliant and not rubbish either. There was no jerkiness or glitchiness, but then the media is simply playing directly from a USB 2.0 device without any user interface to get in the way. Playback is handled using the remote handset or by pressing buttons on the top of the projector. There is no onscreen playback interface in the conventional sense of a media player. Video quality, and the slideshow quality for that matter, is average because of the 800x600-pixel native resolution.
Our projector testing regime using the DisplayMate benchmarks soon revealed the shortcomings of ultra-portability. The HS102 is an SVGA device with a native resolution of 800x600 pixels. It can emulate XGA (1024x768) but the results were predictably rough for computer interface presentations. SXGA (1280x1024) emulation was not even worth trying.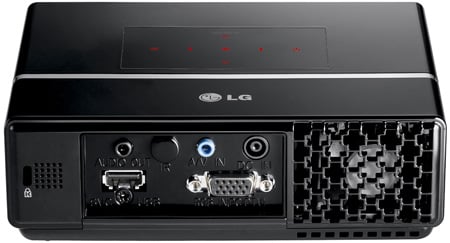 Back panel features standard VGA, camera/camcorder A/V and USB ports
The native resolution was clear but we found it impossible to discern different grey levels at the extreme ends of the scale, despite the unit's contrast ratio specification of 2000:1. There was a little shimmer on large, flat greys, even after fiddling with the phase and clock controls but there were no moirés on fine-mesh lines, which is good.
Sponsored: Minds Mastering Machines - Call for papers now open