LG HS102 Ultra Mobile projector
No bigger than an office phone
Review Smaller, lighter, cheaper, less power-hungry: that's the road we want digital projector manufacturers to take. Indeed, LG does its best to satisfy our craving with a highly compact and thoroughly usable short-throw projector with minimal ongoing costs.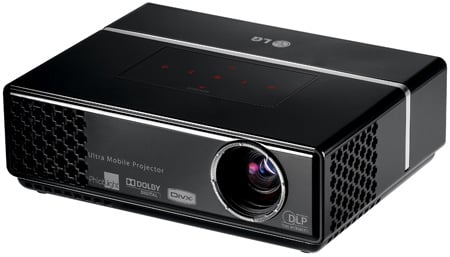 LG's HS102 Ultra Mobile projector
The HS102 falls into the 'ultra portable' sector of the projector market: the unit is just 155mm wide, 117mm deep and 50mm high, and it weighs about 750g. In fact, it is only marginally bigger than the power brick supplied with the mains cable that accompanies the product. You could stuff the projector and its cable into your shoulder bag along with a notebook and still have space to spare, well, not much.
Due to its size, the HS102 is not designed for big-screen projections and it would struggle even in a boardroom. With a suggested maximum throw distance of 2.2m, it is clearly a projector for use in the home, in a breakout meeting room or in the corner of a classrooom. At an optimum distance of 1.7m, the device projects an image of about 1.5m wide and 1.2m high.
LG has taken advantage of this modest specification to fit the projector with an appropriately low-powered lamp, based on LED technology. As well as being more cost-effective to run than metal halide or halogen lamps found in conventional LCD projectors, LED lamps last a great deal longer. LG says the lamp in the HS102 will last 30,000 hours. That's probably the life of the projector itself. Over the same period, a conventional LCD projector owner will probably have to replace the lamp 10 times, costing hundreds of pounds a pop.
Naturally, a short-throw, LED projector has a low brightness rating – just 160 ANSI Lumens in this case – but we found the HS102's image to be bright enough for general purposes without requiring blackout conditions. There is a limited image size adjustment function, while focus is corrected by turning a thin manual ring fitted closely around the lens at the front of the unit. Touching something metallic so close to an illuminated projector lens is scary at first: you expect it to be white hot but it remains cool at all times.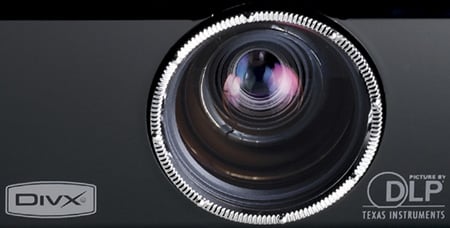 Adjusting a focus ring so close to the lens is possible because the lamp never gets hot
There are no height-adjustable feet to tilt the projector. Instead, there is a screw socket on the underside for mounting the device onto a standard photographic tripod. This is brilliant because it makes the setting up so very quick. Since the HS102 is small, it can be mounted safely on a small tripod on a tabletop without obscuring everyone's vision and, in doing so, eliminates the need for extreme keystoning.
Sponsored: Minds Mastering Machines - Call for papers now open