Ten of the best... Core i7 CPU coolers
So your processor doesn't lose its cool
Asus Triton 88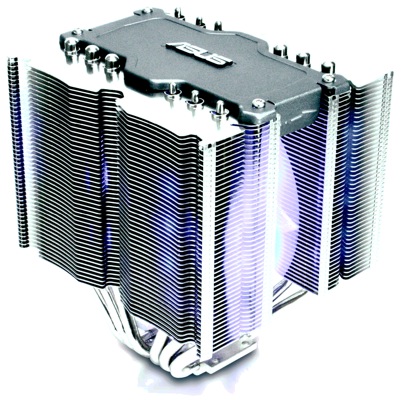 We predict that you'll have a horrible time installing the Asus Triton 88. It uses a bulky design with two coolers that are joined by six heatpipes. The fan is located between the two coolers, which are designed to accommodate two additional 120mm fans on the outside of the heat exchanger. Mounting clips are supplied (the fans are not) so you could install a total of three fans if you fancy.
The two coolers overshadow the CPU socket so Asus supplies a small spanner that allows you to work the four mounting screws into place, quarter turn by quarter turn. It's fiddly and annoying, and is the result of poor design. You really want to have the motherboard on the bench for this installation.
The Asus is fairly quiet at the standard processor speed but as soon as we overclocked the Core i7 920 the thermally controlled fan spun up to speed and made quite a lot of noise. On the plus side, the Triton 88 kept the temperature under control so it's not without virtue but neither is it a winner.
Reg Rating 65
Price £54
More Info Asus' Triton 88 page
GELID Silent Spirit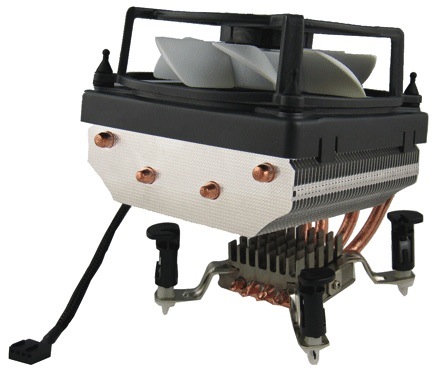 The Silent Spirit from GELID uses a novel lightweight construction, and the heatsink that sits on top of the processor looks just like the sort of thing you generally find on the chipset of a motherboard. Four copper heatpipes move the heat from the heatsink to the main exchanger, which sits at a jaunty angle above the CPU. GELID supplies a choice of mounts for AMD, LGA775 and LGA1366 motherboards that attach to either side of the heatsink with a small screw. The two Intel mounts employ the usual quarter-turn push pins so we expected the Silent Spirit would be easy to install. Unfortunately, the pins were quite stiff and we had to remove the motherboard as it required a good firm push on two of the pins.
The fan has a four-pin connector and is thermally controlled, but it measures a relatively small 92mm in diameter. At standard clock speeds, the Silent Spirit did a decent job and was very quiet but when we overclocked our Core i7 the temperatures rose steadily along with the fan speed and noise.
Having said that we were pleasantly surprised that the GELID managed to control the CPU at 3.8GHz, and when you consider the low price of this model we feel that it's well worth consideration.
Reg Rating 65
Price £23
More Info GELID's coolers page
Sponsored: Minds Mastering Machines - Call for papers now open
Next page:

Coolink Silentator