Ten of the best... Core i7 CPU coolers
So your processor doesn't lose its cool
Noctua NH-C12P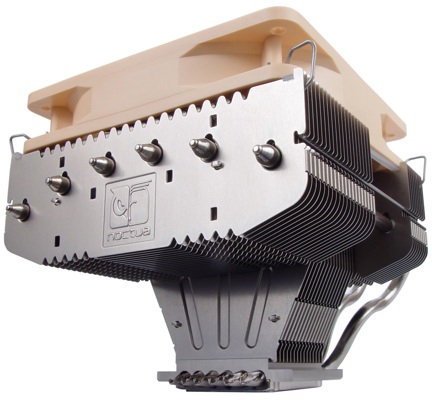 Noctua sent us a set of LGA1366 mounts to adapt the NH-C12P cooler for Core i7 duties as it was originally intended to work with AM2 and LGA775 motherboards. You need to remove the motherboard to install the "SecuFirm" base plate, drop four spacers on their mounting studs, attach two brackets and then mount the cooler to the brackets with captive nuts. The six heatpipes curve through 90° to lay the body of the heatsink down horizontally and keep it reasonably low in profile with the 120mm NF-P12 fan secured on top.
The 1300rpm fan is very quiet but it has a three-pin connector and can't be automatically controlled. Noctua includes two in-line resistors that allow you to fix the speed at either 1100rpm or 900rpm which reduces noise levels even further.
With the Core i7 920 at standard speed the NH-C12P coped easily but the temperature rose steeply when we overclocked to 3.2GHz and was worryingly high at 3.8GHz. The quality of the Noctua is undeniable but you pay a high price and the cooler doesn't cope too well with Core i7.
Reg Rating 60
Price £56
More Info Noctua's NH-C12P page
Thermaltake SpinQ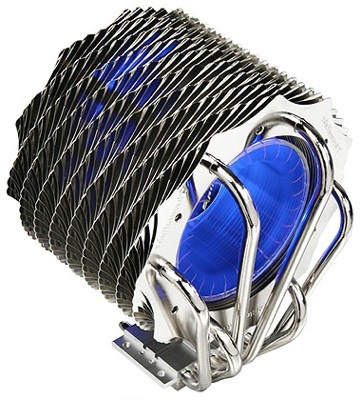 The Thermaltake SpinQ is incredibly shiny and packs more bling than your average CPU cooler. The base is connected to the cooler with six heatpipes that bend through 90° such that the cooler lays horizontally. The cooler is constructed from a stack of shiny plates with an 80mm cylindrical dust-buster fan that fills the centre of the cooler. You also get three blue LEDs in the centre of the cooler which add yet more bling.
The power connector for the fan only has three pins and there is a variable speed controller on a separate cable. It sits inside the case and can be used to adjust the fan speed between 800rpm and 1300rpm. Low speed is effectively silent but we had to increase the speed to get effective cooling.
The base of the cooler is also very shiny but reflections are distorted so it clearly isn't especially flat which presumably reduces the effectiveness of the SpinQ. We found it easy to install the cooler using the Intel-style quarter turn fasteners but the performance really let the side down. It's OK at standard speed but once you start overclocking your Core i7, the SpinQ suffers badly.
Reg Rating 60
Price £39
More Info Thermaltake's SpinQ page
Sponsored: Minds Mastering Machines - Call for papers now open
Next page:

Asus Triton 88