Elgato Video Capture
Mac-up your dusty VHS collection
When you enter the recording's filename, you can also select how long you expect it to last. Later, you can tell Video Capture to automatically stop recording after that time - handy for unattended video transfers.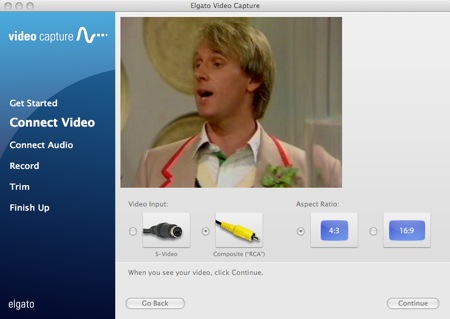 The VC software is a wizard that guides you through the digitising process
The recordings are limited to a 640 x 480 resolution, which is fine for transfer to an iPod or iPhone, but not the video's optimal PAL resolution - 720 x 576, since you ask. You can digitise at 4:3 or 16:9 aspect ratios.
Video buffs may be disappointed, but given VHS' relatively poor resolution to begin with, this sub-PAL resolution isn't an entirely unjustified trade-off. Upscaling it on an HD TV through an Apple TV box or somesuch, or transferring it to a full PAL DVD, isn't optimal given the inherently blurry nature of VHS, especially when it comes to pre-recorded material.
But it will be a limitation if you have better quality content recorded on a domestic VHS or an analogue camcorder. Would it really have been hard to give us full resolution, Elgato?
We tried the gadget out first by hooking it up to an original Core 2 Duo-based MacBook Air and chose H.264 as the format to encode the video in. The results were poor, to stay the least, with the picture and sound speeded up like hand-cranked film run through a modern, motorised projector. Switching to MPEG 4 yielded mostly good, smooth recordings, but that too-fast playback problem still appeared occasionally.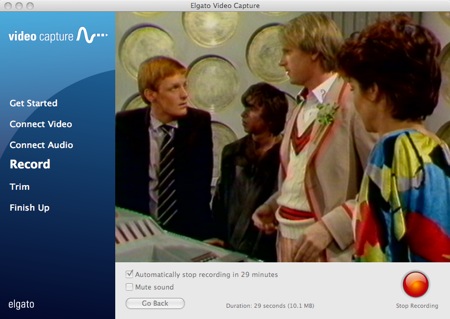 Click to stop recording - or let VC do it for you after a given time
The Video Capture hardware doesn't encode video itself - it's all handed over to the CPU, so we can blame the software for the glitches. Modern Macs won't have any problem here - the original Air is a special case because high processor temperatures trigger a deliberate core shutdown to bring the temperature back down again. And H.264 encoding puts a lot of strain on the CPU.
Sponsored: Minds Mastering Machines - Call for papers now open