Radiopaq slips out sound-boosting iPod Nano sleeve
Up MP3 quality using 'Intelligent Audio technology'
Poor iPod performance getting you down? Then boost its audio accuracy with Sound Jacket which, manufacturer Radiopaq claims, significantly improves the sound quality of MP3 music tracks.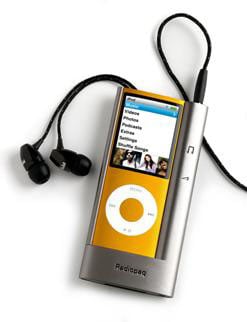 Radiopaq's Sound Jacket: improves MP3 audio
Compatible with the fourth-generation iPod Nano, Radio Jacket apparently employs the internet radio search engine firm's "Intelligent Audio technology" to counteract the impact that MP3 file compression has on audio fidelity.
The result is a 60 per cent improvement in sound quality, Radiopaq claimed.
The firm described its technology as similar to a graphic equalizer, but one that "automatically adjusts itself continuously to best suit the music" being played into order to eliminate distortion and reveal hidden musical detail.
Is all this really possible from a simple iPod sleeve? Register Hardware tested a pre-production Sound Jacket back in April and the improvement in sound quality was immediately noticeable.
Switch Radio Jacket on and off while listening and you'll easily hear the improvement you get when the gadget's doing its thing. Tracks have deeper bass, greater warmth and less distortion.
But there is one drawback, aside from the fact that Sound Jacket's only compatible with fourth-generation iPod Nanos. The sleeve receives its power from the iPod Nano, so the Apple player's battery life is cut down from 19 hours to around 11-12 hours.
Radiopaq's Sound Jacket is available now in a "Metallic Grey" body, priced at £70 ($112/€81). ®
COMMENTS
Reveal hidden detail?
It's a compressed file. Unless it's going to the internet and looking up an uncompressed version of the file, the detail isn't hidden. It ain't there.
So, if the statement is even vaguely true (and not just marketing bollocks) what it is actually doing is having a stab in the dark and making up extra detail as it goes along. Although that probably doesn't sound quite so impressive in the marketing blurb.
LOL
I'm sure stupid iSheep will be queuing up to buy this snake oil.