Toshiba NB200
The right way to design a netbook
But now we have to address the NB200-110's styling. We love the laptop's design, but hate the look. The glossy bezel replicates the lid's diagonal stripe pattern. On the lid it's matte and textured; the bezel alternates white and silver glossy stripes. The NB200's hinge section is shiny chrome-look plastic, while the lower half, the keyboard, the touchpad and buttons, and the base are all composed in silver-sprayed plastic.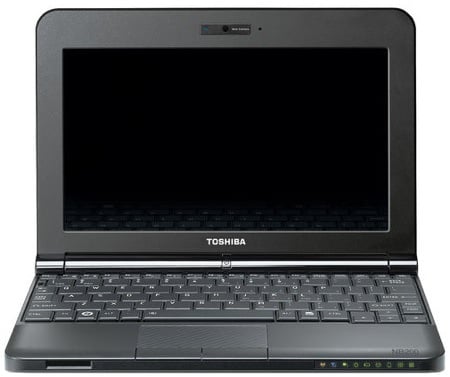 The nice black version looks way better than the others...
Frankly, it looks tacky, and only the NB200's good industrial design saves it. If the lid was in silver too, it might work - as it is, it's not consumer sexy or business sharp. You can have a "satin brown" lid which looks very slightly better. Fortunately, the basic black does work, and that would be our choice. But here's the thing: Toshiba doesn't give you a choice. If you want black, you can't have the N280 CPU and/or Bluetooth. If you want the N280 but don't need Bluetooth, your only choice is the brown model. At least there are two black versions, one with the six-cell battery, one with the three-cell job.
Prices range from £319 to £369 - Toshiba is aiming the NB200 more at business buyers than regular consumers. The Bluetoothless NB200-11H is only £2 cheaper than the models with the wireless standard. The six-cell black model - the NB200-11L - comes in at £332, and that would be the version we'd choose.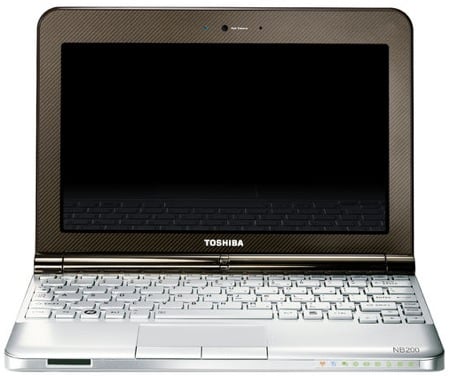 ...but the ugly brown one has a better spec
Verdict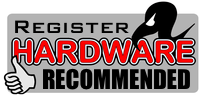 Toshiba's second attempt at a netbook is a stunning success... almost. The design's superb, the build quality good and the specs decent too. Only the above-par pricing - though you do get a better-than-average software bundle - and the awful colour schemes applied to the higher-end models let the side down. Toshiba: ditch the silver and chrome and you'll have a real winner on your hands. ®
More Netbook Reviews...
| | | | |
| --- | --- | --- | --- |
| Dell Inspiron Mini 10v | Samsung N120 | Acer Aspire One D250 | Asus Eee PC 1008HA Seashell |
Sponsored: Minds Mastering Machines - Call for papers now open

Toshiba NB200
Fantastic battery life, cute design... shame about the best=spec models' colour schemes.