Toshiba NB200
The right way to design a netbook
Size-wise, the NB200-110 is 263mm wide, a dimension determined by the keyboard rather than the screen. Like Asus' new Eee PC 1008HA, the NB200 has widely spaced, calculator-style keys, each of which has a decent travel and a smooth action. There's almost no flex to the keyboard itself. This is a very good netbook keyboard and one that correctly positions the Ctrl key is to the left of the Fn key.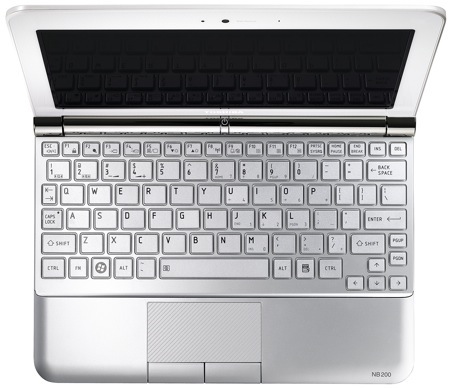 The NB200 has a decent keyboard and a nice, big touchpad
Toshiba has fitted the NB200 with an Alps-made touchpad that, at 78.5 x 40.5mm, is one of the biggest netbook touchpads we've seen. It comes with software to fully customise its operation. In addition to the usual scroll areas on the bottom and right edges, you can set the corners to operate as single-tap buttons, and the top edge of the pad can be used with your web browser for page flipping. The touchpad app provides a host of choices you can apply if you want corners, scroll areas and so on to do something different - or even just turn all this off and enjoy a big touchpad that, for once, means you can leave your mouse at home.
The two buttons are placed below the touchpad, right at the front of the netbook, and they have a nice, soft action that provides sufficient physical feedback to tell you you've clicked on something but doesn't make you feel you need to push with all your might. Press both buttons at once, and the touchpad pops into autoscroll mode. Again, you can turn this off if you don't like it.
The only flaw is the slightly slow, jerky response we noticed, as if the touchpad is dozing off when it's left alone. Fully awake, it works just fine, but every time you start using it there are moments when your finger is moving but the cursor is not. This could get irritating over time. We didn't experience this when we used a mouse, so it's clearly a touchpad issue.
All the NB200 variants come with Windows XP and, as we say, a stack of Toshiba utilities. Among them is an app that warns you every time you so much as gently nudge the NB200 that the machine has consequently had to park the hard drive heads for their protection. Thankfully, you can turn the warning off, but it's nice to know there are accelerometers present watching out for sudden drops and knocks - common occurrences with netbooks, even though this level of disk protection is not.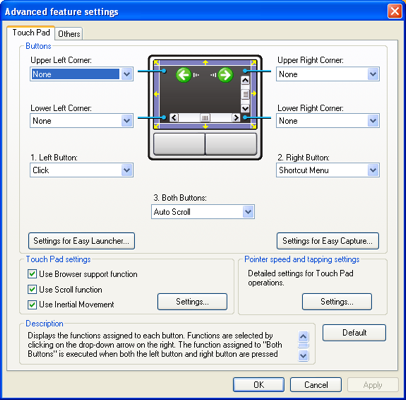 Adjust the touchpad's many options
Toshiba Power Saver takes over from Windows' own power tools to give you a good degree of device power management, including the CPU, while ConfigFree provides network mapping and diagnostics. There are utilities for formatting SD cards; taking photos and videos using the webcam; and - most useful of all, we suspect - charging USB-connected devices even when the laptop's sleeping.