Toshiba NB200
The right way to design a netbook
That leaves the NB200's design as one of the key differentiators, and here Toshiba has done a very good job indeed. The NB200 is pleasingly modern, with curves in all the right places and, crucially, a slimline styling - it's 25.4mm thick at the front, rising to 32.3mm at the back; the extra is its rear feet - that immediately sets it apart from so many, more chunky netbooks.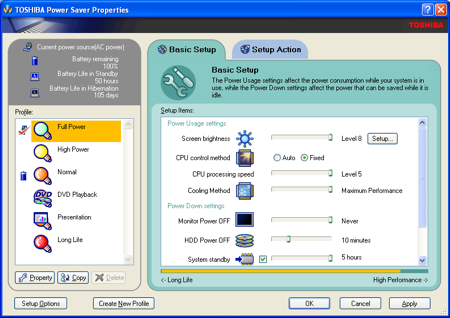 Tweak your system settings to minimise power usage
The low-end NB200-10G comes with a three-cell battery that sits flush with the casing. The NB200-110 we tested comes with a six-cell, 63Wh power pack that extends beyond the back of the laptop. Even so, it doesn't feel like it was chucked on at the last minute, as a fair few six-cell laptop batteries - yes, Acer, we're thinking of you - do. It looks like it's part of the machine, and it doesn't lift the back up way above the reach of the netbook's own feet, as is the case with the Dell Mini 10v, for (an extreme) example
The six-cell battery adds weight, of course: the NB200-110 weighs 1.33kg to the NB200-10G's 1.18kg, but what's 150g among friends, especially given the extra runtime the bigger power pack provides?
And, boy, does it provide runtime. We ran our customary video playback test - loop a standard definition video full-screen, with the screen's brightness up full and Wi-Fi on - and the NB200 ran for six hours 12 minutes. That's the second best time we've recorded - better even than the mighty Asus Eee PC 1000HE.
Turn down some of the processor and other power saving settings Toshiba provides, turn down the display's backlight and turn off the wireless radios, and you should be able to eke out the battery's charge for a good three hours beyond that, if not more.
Video Playback Battery Test Results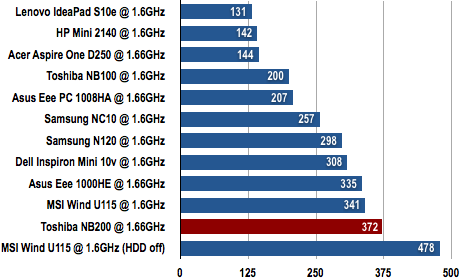 Battery life in minutes
Longer bars are better
The base of the machine provides the customary access hatch for the memory - one Dimm slot, filled - and a separate panel the covers the Wi-Fi card and the 2.5in Sata hard drive, though it's held down with a pair of very small gauge torx screws. Upgraders should have no trouble replacing these key components if they wish.
Sponsored: Minds Mastering Machines - Call for papers now open