Iomega eGo 320GB pocket external hard drive
Pocket-flat backup bargain?
Overall disk performance was workmanlike but not outstanding. In one representative test, in which we copied a 1GB file to and from the eGo 320GB with our file system cache disabled, the unit achieved a read throughput of 16.5MB/s and a write throughput of 14.9MB/s. This doesn't compare brilliantly against our control device, an old Seagate FreeAgent 500GB desktop USB 2.0 drive, which achieved 25.6MB/s read and 22.6MB/s write in the same test.
File-transfer Speed Results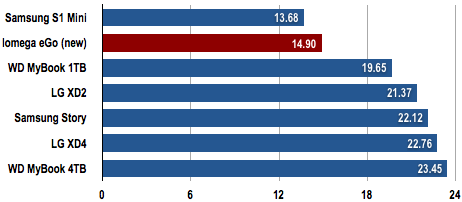 File-transfer speed in Megabytes per Second (MB/s)
Longer bars are better
Note: figures for other drives based on the transfer of a 2GB file
The eGo's throughput should be enough to stream media files to your computer but it does make everyday file copying and backup slower than they need be. On the other hand, its better qualities lie in portability and usability, so we can forgive the eGo for failing to be a speed demon. One of Iomega's more daring claims for the eGo is that it can survive the dreaded 'drop test'.
Although there's not a squeak of it in the manual, a sticker on the box and a mention on Iomega's website refers to a Drop Guard feature. This apparently means you can safely drop the unit a height of 1.3m - let's say up to elbow height for the general population - without causing damage to the eGo or the data on its hard disk.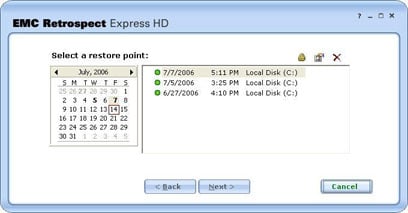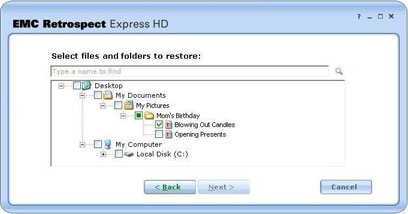 Restrospect HD walks you through backing up and restoring files
Not wanting to incur the wrath of either Iomega, we confess that we didn't push this feature to its limit. The eGo seems happy to be dropped by er... accident onto a floor covered with office carpet tiles. We don't know what would happen if you dropped it onto a wooden floor or onto a pavement - sorry. Our limited trial, though, suggests that the eGo is at least rugged enough to survive being knocked off an office desk, which is possibly a more likely scenario than sending it crashing down some polished marble steps.
Sponsored: Minds Mastering Machines - Call for papers now open