Acer Tempo F900 Windows Mobile smartphone
Screen gem let down by supporting cast?
Truth be told, we like the F900's music player a lot. Albums are represented by a carousel of discs that you can swipe through, each disc having cover art on it just like a late 70's vinyl picture album – which probably means nothing to readers under the age of 40. Tap the relevant disc and it appears at full screen with the media controls inside it. The music player also comes with full range of EQ settings and produces a rather decent sound. That said, you are stuck with the supplied miniUSB headset, as there's no 3.5mm headphone jack.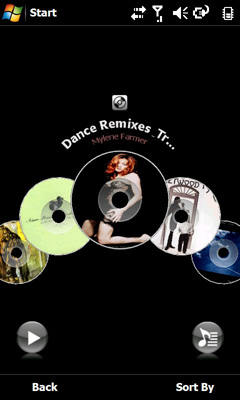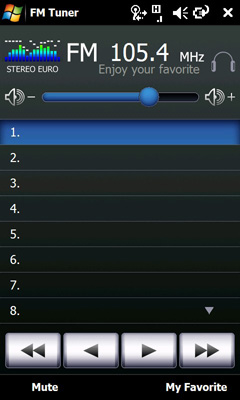 The F900 has a decent music player and FM radio, but no 3.5mm headphone socket
The lack of a video player other then Windows Media Player is bit of a drawback on a device with a 3.8in screen. As always, you can download CorePlayer or similar, but Acer really should supply the F900 with an optimised player that makes better use of all that colourful WVGA screen acreage.
On-board storage is a meagre 256MB, however, the F900 has a microSD card slot that is good for 32GB. We tested it with a 16GB card and it worked perfectly, something that's not always proved to be the case with Windows Mobile devices.
As with other Acer smartphones the F900 comes loaded with a decent array of subsidiary kit and programmes including a voice controller, business card recogniser, media streaming client and Google Maps. You also get the same rather fine SiRF Star III unassisted GPS, as you do on the DX900, together with the same run-of-the-mill 3.2Mp autofocus camera. One thing you don't get is a forward facing camera to make 3G video calls, but that's probably no great loss to most users.
Unfortunately our time with the F900 was marred by a couple of firmware issues. To start with the accelerometer proved a little wayward and refused to work at all with Opera Mobile or the Acer Shell home screen. Secondly, and more annoyingly, on one occasion the WiFi radio suddenly decided it didn't want to launch. A clean boot fixed this, but that also wiped all our data and installed programmes, so it's not a fix we would be happy having to do more than once.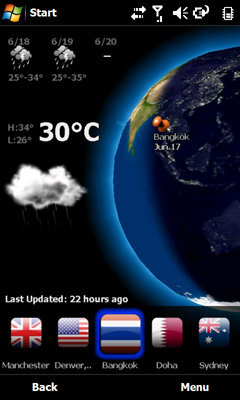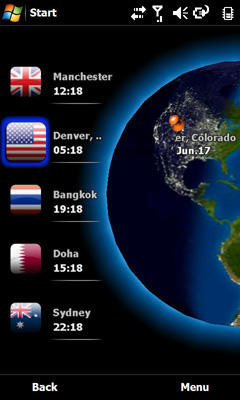 The animated weather and time displays certainly have their appeal
We also couldn't find a way of turning the haptic feedback off, which is not a problem if you like it, but is an issue if you don't. Yet when it came down to basic 'phone stuff,' the F900 performed well. Both incoming and outgoing calls sounded loud and clear and the speaker quality proving above average too. No problems with signal reception either, the handset working well in both 2 and 3G reception areas.