Acer Tempo F900 Windows Mobile smartphone
Screen gem let down by supporting cast?
The F900's operating system is Windows 6.1 Pro and there's no need to dwell too long on its pros and cons. On the upside you get Windows Office Mobile and easy PC connection and synchronisation but, on the downside, it's an ageing and fiddly OS cursed with a reprehensible web browser and limited media player.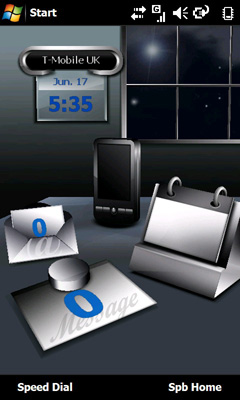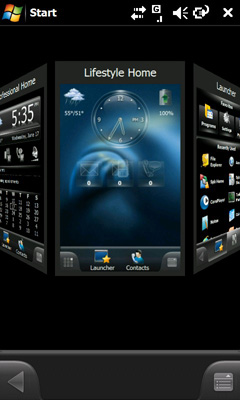 User Acer Shell 'office' on the left for free or opt for Spb's carousel on the right, but at a cost
Like the DX900, the F900 is powered by a Samsung S3C 6410 533MHz processor, which has 128Mb of RAM available. It's a set up that powered the DX900 at a decent enough clip, but it seemed to struggle a bit in the F900. We reckon a lot of that is down to a combination of Acer's flash new graphical front end and the larger screen.
When we first saw Acer Shell on the X960 we were fairly impressed. We liked the three-page 'office & desk' widget layout and the animated weather and clock screens. You also get a handy Quick Launch menu that you can populate with short cuts to up to 36 programmes, a useful zoom function that expands all the icons in the status bar and a rather fine virtual keyboard that allows for easy typing without recourse to the stylus.
Unfortunately, on the F900 the Acer Shell home screen just isn't quick or fluid enough to be truly satisfying and occasionally it would 'stick'. On one occasion we tapped the 'back' soft-button three times – all of which registered – before anything actually happened. Acer Shell is also pretty memory hungry – just look at the phone's task manager and you will see available system memory drop by around 20MB when it's running, which only leaves about the same again for the rest of your applications.
Agreed, Acer Shell certainly looks nicer than the version of Spb's Mobile Shell fitted to the DX900 but it simply doesn't work as quickly and, given the choice, we'd take the quick but dull over the impressive looking but tardy. Did we say dull? Spb's new version of Mobile Shell is actually very far from dull - the 3D virtual carousel is fast and visually attractive and the new widget system makes it supremely adaptable.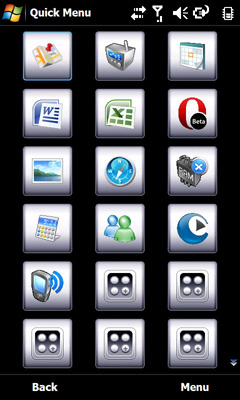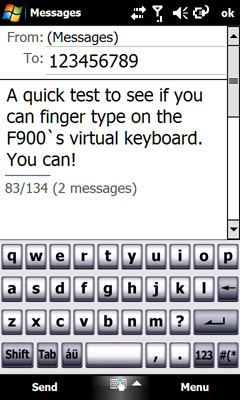 Application shortcuts menu and keyboard input
We loaded up Spb's Mobile Shell v3.0 and have to say we'd use it as the UI and unload Acer Shell from the Today menu, which still lets you use Acer's bespoke virtual keyboard and music player, both of which we like. Life would be simpler, and the F900 a better device, if Acer had just loaded it with the new Spb application to start with. Still, see for yourself, Spb can be installed as a 30-day trial or just go the whole hog for $30.