The best memory config for a Core i7 CPU
All the options tested
What speed memory should you use to get the best from Core i7?
We had a torrid time trying to raise the memory speed to 1600MHz on the EVGA X58 SLI. This is something of a puzzle as the EVGA manual explicitly states that the board supports memory speeds way beyond 2000MHz. Furthermore, the EVGA forums give a detailed guide to overclocking.
We spent ages trying all manner of settings and different types of memory, but we got nowhere fast. It was time to switch motherboard yet again. This time we tried an Asus P6T SE and suddenly we found that the memory would run at really high speed.
SiSoft Sandra Results
Bandwidth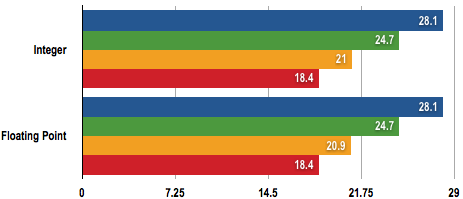 Memory Bandwidth in Gigabytes per Second (GB/s)
Longer bars are better
Latency

Memory Latency in Nanoseconds (ns)
Shorter bars are better
We installed a Core i7 965 Extreme processor on the Asus along with 3x1GB Kingston HyperX DDR3-2000 running 32-bit Vista and tested the memory running at 1066MHz, 1333MHz, 1600MHz and 1866MHz. SiSoft Sandra showed that the memory bandwidth increased by 10GB/s from 18GB/s to 28GB/s.
This enormous change was barely reflected in PCMark Vantage as the Overall score barely changed one iota. The most obvious benefit of the increased memory speed was in the Productivity section of the benchmark but generally speaking the results were unimpressive.
We were unconvinced by these results and installed 6x2GB of OCZ Reaper DDR3-1800 on the Asus running on 64-bit Vista. Increasing the amount of memory from 3GB to 12GB yielded improvements in Vantage's Overall results. However, the 12GB system didn't show any benefit when we increased speed from 1066MHz to 1333MHz and onwards to 1600MHz. The figures show that the Gaming element of PCMark Vantage increased as the memory speed got higher, but the Productivity test results decreased. That's right the results decreased where they increased on the 3GB 32-bit system. Historically, we've found that PCMark Vantage is a very good guide of system performance.
PCMark Vantage Results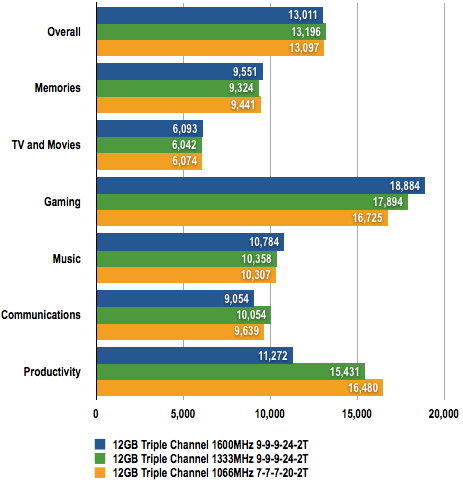 Longer bars are better
Verdict
Don't get stressed about running a high memory speed on Core i7. You're probably better off using 1333MHz than 1066MHz, but we are sure that 1600MHz and higher speeds are a fruitless exercise.
Sponsored: Minds Mastering Machines - Call for papers now open